Greek life's virtual recruitment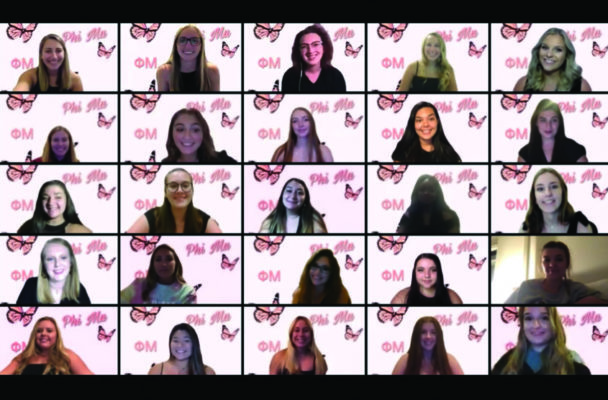 By Elise Coby
Organizations Editor
As High Point University continues to adapt to the changes that 
 COVID-19 has put in place, many events and activities that were once in-person are now being held virtually. Most recently, Greek life held its fall recruitment process via Zoom and other online platforms.
HPU's website commented on the new rush process. 
"All rounds [were] held virtually to comply with HPU expectations on social distancing and space occupancy," said HPU. "Students who registered for Panhellenic recruitment [were] provided with additional information on the process when they attend[ed] the Virtual Mandatory Meeting on Aug. 30."
HPU sophomore Shannon McKenna commented on her recent experience with the virtual rush process. 
"It has been a little stressful," said McKenna. "The fact that it is still happening is definitely exciting, and it's something new that everybody gets to experience. Each round is online for certain amounts of time. You're still having interactions with the girls of each sorority. Even though it's not in-person, I feel as if you're still able to get your gut feeling of which sorority you want to be a part of."
HPU sophomore Marc Cohen also commented on his experience with the virtual rush process. 
"It was as good as it could've gone," said Cohen. "I believe [the Greek council] made the most of what they could have."
Many organizations and events have taken precautions to avoid a possible rise in cases, relying on Zoom, a video conferencing and communication software that allows multiple people to join a virtual "room" to converse with each other. 
"They definitely worked around [the technological issues] and did a great job of organizing everything, even though there were hiccups," said McKenna. "At the end of the day, they figured it out and carried out the rush process."
Cohen also experienced challenges with the virtual rush process.
"The most difficult part was the Zoom calls," said Cohen. "There would be 25 students in just one call, and only four brothers, so you couldn't talk much." 
McKenna elaborated on her personal experience with the virtual rush, stating that she enjoyed being involved with something new. 
"I liked having the opportunity to even be a part of it," said McKenna. "Some schools didn't even participate in recruitment because of technological limitations and other factors. I knew I wanted to since last year, so it being virtual didn't hinder my own idea of rush. Even though the ideal experience is being in-person, I still participated online, and I was completely happy with the process. I think everyone should keep an open mind and enjoy the process, regardless of picking a sorority, online or in-person." 
Although COVID-19 caused the sorority and fraternity recruitment process to become virtual, students made the most of the experience and were happy to take part, while other colleges and universities were less fortunate.