Companies digitally network with prospective employees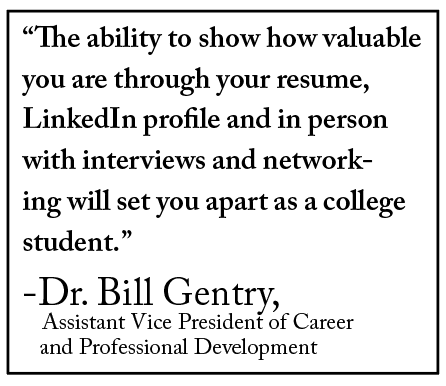 By Nicholas Bainbridge
News Editor
One of the purposes of college is to prepare students for their future careers, which is why High Point University's Office of Career and Professional Development works to ensure there are many opportunities for students to build their resumes. The Fall 2020 Career and Internship Expo is one of the ways the office works to achieve this goal.
The career expo, held on Sept. 23, was a gathering of several businesses where companies engage with HPU students in search of qualified applicants for internships and job positions. The expo allowed students to network with different businesses and discover new career options. 
According to Dr. Bill Gentry, assistant vice president of Career and Professional Development at HPU, finding work experience through the expo is advantageous because it can be used to show future employers capabilities and uniqueness.
"Getting experience – whether it is through an internship, campus employment, part-time work or volunteering – is crucial for any student's career and professional development," said Gentry. "Employers want to see the types of experiences and skills and accomplishments you have. The ability to show how valuable you are through your resume, LinkedIn profile and in person with interviews and networking will set you apart as a college student."
In previous years, the Career and Internship Expo has been held in person; however, safety measures put in place due to COVID-19 led to a change in the structure of the event. 
Instead of involving physical meetings, the expo was divided into several virtual chat rooms using online meeting platforms, like Zoom and Webex. Each company had their own room which attendants could drop in to and learn more about a business that interested them. 
Before students entered a chat room, they were given descriptions of the various companies. This explained what kind of majors and types of students the recruiters of each business were seeking, as well as other information to help students find companies that suited their interests.
There were 24 distinct companies present, and they represented several different industries. Opportunities, both local and out of state, were also included. Some of these businesses include Daimler, a vehicle manufacturing company that owns the famous Mercedes-Benz brand was present at the expo. There were also local companies, such as the High Point Rockers, the city of High Point's professional baseball team. 
Dr. Gentry believes these businesses sought to find potential interns or employees among HPU students because the students have something to offer.
"We have a variety of companies, private, public, for-profit and nonprofit, who know the value of HPU students and understand the value they bring to organizations," Gentry said. "That's why they want to recruit HPU students. They understand that HPU students are outstanding in their field of study, and they want to have students who are able to apply what they learn in the classroom into their organization."
While the expo was digital, that did not mean that professionalism was discarded. Students and employers spoke via video and dressed in business-professional attire. Additionally, students brought their resumes with them to present to the companies' representatives, as a way of introducing themselves and showing their qualifications. 
Events like the expo may give certain advantages to job hunters, as it can enable them to learn about positions before competing applicants. Not every job opening is listed immediately, and employers may find that a student is an appropriate fit for an opening that hasn't been made public yet. 
"Recruiters know which jobs are open and which jobs are about to be open but are not posted yet," Gentry said. "If a student comes to the expo and gives a great first impression and shows interest in the company, that recruiter may see an immediate connection that, otherwise, they would not see through an online job posting."
According to Gentry, a strength of the expo is its ability to enable networking, a key tool in securing a desirable position. 
There will be other events like this in the future, such as the Spring and Fall Career and Internship Expos next year. There are also various workshops and seminars that the Office of Career and Professional Development host regularly. Representatives from the office are available to help students with their resumes to prepare for the next expo and to provide other career-oriented help. Additional information on upcoming events and different tools available to students at highpoint.edu/careerinternships/.