Grad student spreads positivity through the web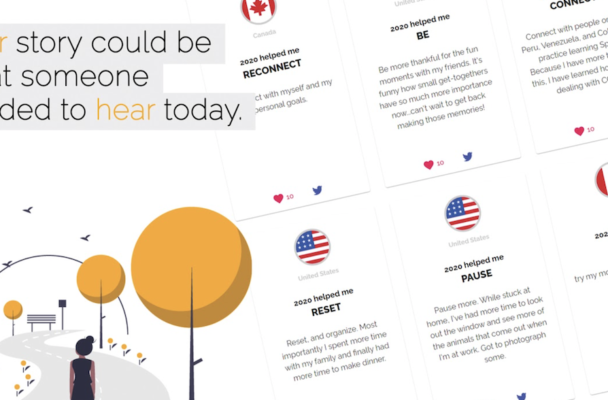 By Nicholas Bainbridge
News Editor
2020 has been a challenging year for many, but one man is working to brighten up how people think about it. Mark McKinney, a graduate student at High Point University, created the website, "2020 Helped Me," as a way to show people that there is more to the year than just its negative aspects. 
It is a website where people anonymously share short posts about how their lives were impacted by 2020 to inspire others and promote positivity. Users can "like" posts they found inspiring on the site. It also features Twitter integration for people to share these positive messages with their friends. 
McKinney's project was inspired by another site, "2020 Sucks Because," that highlighted all of the troubles people have faced throughout the year. While that website is no longer online, it led McKinney to develop his own site that embodies a more constructive outlook on the year. 
"I stumbled upon the website focused on negative stories through Reddit, where it went semi-viral," McKinney said. "At the time, it seemed like a good tool for people to vent and let off some steam. However, the site got increasingly depressing. I realized that it was time to flip the script and give people a place to pause, reexamine their year and make steps toward turning difficult circumstances into an asset. I knew these stories already existed — there just needed to be an outlet for them."
Anyone can post on the site, leaving a brief story, poem or message to encourage others to look for the silver lining in this year's hardships. The posts are anonymous, only revealing the poster's country of origin. This was a deliberate choice on the part of McKinney, as he believes it enables people to be honest while helping foster connections between users.
"I wanted to keep things anonymous so that users felt comfortable sharing their authentic feelings and circumstances," McKinney said. "However, I also wanted visitors to feel a connection to the person they're reading about. Showing a poster's country of origin helped create that relatability and global connectedness. It's also just super cool to see so many different flags on the site."
The site has dozens of posts from people around the world. While most of the posts have been made by people in the United States, there are also some from other nations, including Albania, England, Peru, India and several more. 
McKinney expressed that he was pleasantly surprised with how well his project has been received. 
"I never imagined that users, especially anonymous ones, would post such touching and honest stories," McKinney said. "It's so encouraging to me to see that there are people who are finding the silver lining in their 2020. It's incredibly motivating."
Creating the site was a challenge, requiring McKinney to make use of his technical skills. Security measures were a major concern of his. To ensure his site achieved its mission of spreading positivity, he had to take steps to make certain that rule-breaking posts were not featured. He uses machine learning models to automatically find and prevent posts that violate the site's standards.
While the site is free to use, McKinney has implemented a feature where appreciative users can donate to his work. The site has a link to his "Buy Me a Coffee" page, "Buy Me a Hot Chocolate." "Buy Me a Coffee" is a website where people can support their favorite content creators by paying for their morning beverages. Not every user gets coffee though, as McKinney has his site, "Buy Me a Hot Chocolate," set up to pay for hot chocolate instead.
It is simple and easy to make a post on "2020 Helped Me." Users can go to the site and click on the "Inspire Someone" button in the top-right corner of the screen. There is no requirement or fee to make an account.