Saturdays are for the High Point Farmers Market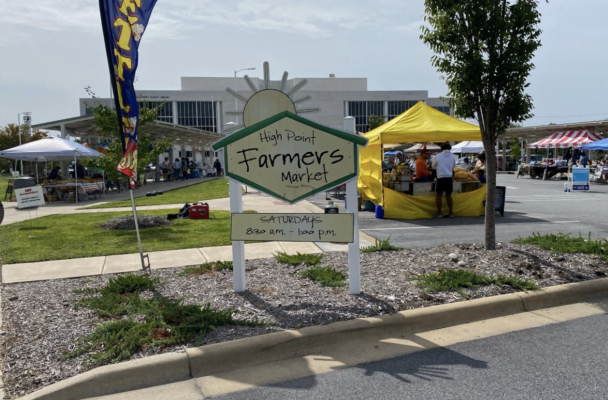 By Olivia Krumpe
Staff Writer
Students looking to venture off campus should visit the High Point Farmers Market. Every Saturday, local vendors set up booths in the High Point Public Library parking lot from 8:30 a.m. to 1:00 p.m. 
 Upon arrival, shoppers are greeted by the music played through a speaker set up in the middle of the library's parking lot. Normally, there is a live band; however, consequences of the pandemic have put live music on hold. Vendors wear friendly smiles, as they greet shoppers and tell them about their products. 
The market has a wide variety of goods. There are farm-fresh fruits, vegetables and meats, freshly baked goods, ice cream, kettle corn and pickles, all from different local businesses. There are also plenty of handmade products.
One seller specializes in handmade containers made from cement, spray paint and old towels to create colorful, multi-purpose bowls. Another vendor offers fleece blankets and headbands; another, printed tote bags and ceramic pieces, while another offers homemade doormats. There were also booths with jewelry, journals and other decorations.
Evan Blackerby, who works with Friendship Plant Company, sells succulents of different shapes and sizes. The company has been coming to the Farmers Market every weekend for the past two years. Its booth has an attention-grabbing setup, featuring a company truck parked next to the table.
"The goal is to meet people, connect and create a culture of generosity," Blackerby said.
At this company's booth, there are three size and price options for the succulents, ranging from $5 to $20. People receive a sticker of an illustration of the company truck, with the purchase of a plant.
Blackerby's favorite moments at the market include the opportunities to get to know and bond with people over a similar interest. 
"One of the things that I have seen is the ability to connect with people who I don't normally connect with over something that's common ground," Blackerby said. "I've seen that happen with people who are older and younger than I am. From kids to 90-year-olds, I'm able to talk to them about something we have in common."
The High Point Farmers Market is a great way for not only the community to come together, but for High Point University students to support local businesses and meet people from the area. Students are bound to find a new decoration for their dorms, a tasty treat or some jewelry to wear on their next trip to 1924 Prime. As Halloween approaches, students may even be able to pick up a pumpkin or two to carve with their friends.
Freshman Kylie Smith has visited the Farmers Market. 
"My favorite part of the Farmers Market was the sense of community," said Smith. "There was music playing and families were running tents together. Everyone was talking to each other which was really nice to see."
Smith is looking forward to attending again and plans to purchase some pumpkins and succulents. 
Students have five more opportunities to visit the Farmers Market, before it closes for the season. Its remaining dates include Oct. 3, 10, 17, 24 and 31. After Halloween, it will not reopen until the spring of 2021. The market is hosted in High Point Public Library's parking lot, located at 901 North Main Street, next to Krispy Kreme.