Update on newest additions coming to HPU's campus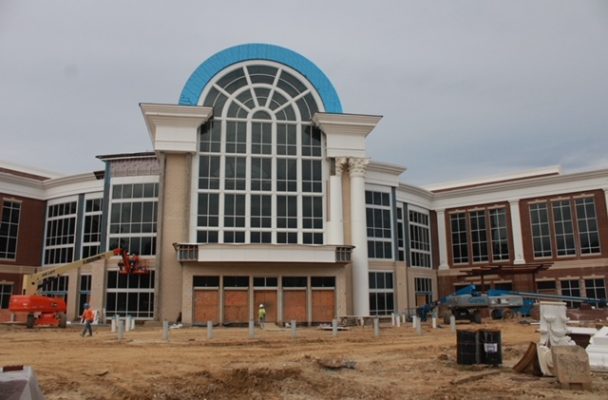 By Faith Foushee
Digital Media Editor
The Nido and Mariana Qubein Arena and Conference Center is still under construction. It is the next addition to High Point University's campus, following the Caine Conservatory, which opened this past spring and has become a favorite spot for members of the HPU community. Once completed, the arena will be the new venue for HPU's men's and women's basketball games, as well as concerts and guest speakers.
The conference center will provide space for presentations and events by academic programs and university clubs or organizations. The Jana and Ken Kahn Hotel is also being built alongside the arena and conference center. The hotel will have about 40 residential rooms, as well as dining and meeting spaces. 
The arena will seat 4,500 people. Additionally, it will feature amenities, such as locker rooms, offices, concession stands, an athletic training room and a ticket office.
Students were originally told that the 2019-2020 basketball season would be the last in the Millis Athletic and Convocation Center, but construction has slowed. 
"The project took a slow down during the initial impact of COVID-19," said Jason Sweet, director of construction and renovation at HPU. "We wanted to make sure we were being cautious to help control the spread of the virus. This went on for about three months. The project is now back fully underway."
While working with a safe, reduced number of people, the construction team focused attention on the exterior of the building and on installing heating and air units to get the building conditioned. The construction team is back to work with a new schedule, while also controlling their health and safety practices on the job site. 
"The time frame for the arena will be that we finish up in late winter or early spring for construction," said Sweet. "We will furnish the building right after construction and be ready for occupancy through the summer." 
HPU is also holding "Hard Hat Tours" of the arena to show interested students the progress that has been made. 
The construction of the arena, conference center and hotel is actively underway and on track to host the 2021-2022 basketball season.