Adam Sandler pays tribute to Cameron Boyce in new movie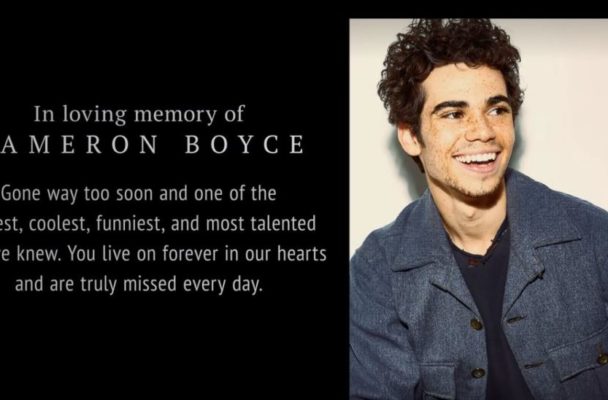 By Emma Ralls 
A&E Editor
Adam Sandler's new movie, "Hubie Halloween," became available on Netflix on Oct. 7, and fans were touched by its heartfelt dedication to the late Cameron Boyce.
"In loving memory of Cameron Boyce," the title card reads during the credits of the movie. "Gone way too soon and one of the kindest, coolest, funniest and most talented kids we knew. You live on forever in our hearts and are truly missed every day." 
Boyce, best known for his roles in the Disney Channel shows "Jessie" and the "Descendants" trilogy, passed away in July 2019 due to complications with epilepsy in his sleep. Boyce was 20 years old, and his death impacted co-stars, fans and the Hollywood community. 
"Too young," Sandler wrote in emotional Twitter and Instagram posts after the actor's death. "Too sweet. Too funny. Just the nicest, most talented and most decent kid around. Loved that kid. Cared so much about his family. Cared so much about the world. Thank you, Cameron, for all you gave to us. So much more was on the way. All our hearts are broken. Thinking of your amazing family and sending our deepest condolences."
Sandler and Boyce had been co-stars in the mega-popular "Grown Ups" franchise. Boyce played Sandler's son, Keith, in the first and second films, and the two actors shared many scenes together. Sandler would also later appear as a guest star on an episode of Boyce's Disney sitcom "Jessie." 
"When he was in 'Grown Ups,' he was just carefree, happy, funny and all the other kids loved him," Sandler said in an interview with Yahoo! Entertainment. "All the comedians would walk away like, 'Man, that kid said a funny line earlier.' He was just sharp."
Boyce was supposed to appear in Sandler's "Hubie Halloween," alongside other "Grown Up" stars, including Maya Rudolph, Kevin James, Steve Buscemi and Rob Schneider. 
"He was supposed to come to do the movie maybe two days after [he died]," Sandler said in his Yahoo! interview. "He was getting on a plane to come shoot our movie. That was devastating news for his family and for all of us. He was always great to my family. Cameron came to my daughter's bat mitzvah three months before he passed away, and every one of my daughter's friends was coming up to him. He took the time, talked to everybody, signed autographs and took pictures with them. He was just a great kid, and everybody misses him."
Boyce's close friend, co-star and roommate Karan Brar was later recast in the role Boyce was supposed to play in "Hubie Halloween." Brar has starred alongside Boyce on "Jessie." The two had known each other since Boyce was 9 years old and Barar was 12 years old. 
Peyton List, one of Barar and Boyce's co-stars from "Jessie," also makes an 
appearance in "Hubie Halloween" as Peggy.
"Hubie Halloween" is a comedy about Hubie Dubois, a goofy and devoted community volunteer that becomes entangled in the Halloween pranks of his neighbors in Salem, Massachusetts. Hubie spends every Halloween making sure those in his community celebrate the holiday safely, even when he finds himself in the middle of a real murder investigation. 
Viewers can watch "Hubie Halloween" today on Netflix.