Fashion Week 2020: COVID-19's impact and new styles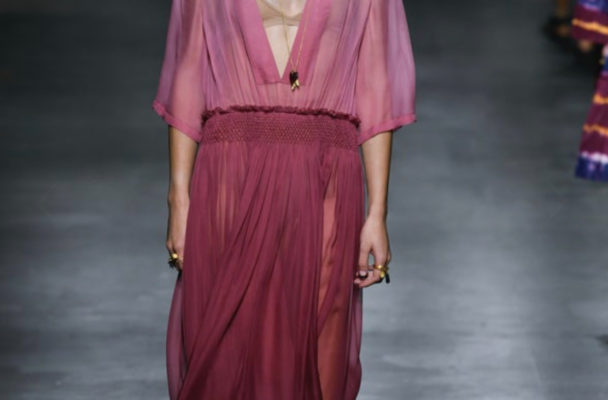 By Rebeka Ogren
Staff Writer
The month of September in the fashion world is centered around one thing: Fashion Week. The world's leading designers, models, journalists and influencers flock to cities like Paris, New York and Milan to debut their content. 
With COVID-19, all parties were forced to rethink their application and execution of designs, media and shows. Designer Christian Siriano debuted his spring 2021 collection at his Connecticut home this year, differing greatly from his spring 2020 show that was in New York City's prestigious Gotham Hall. Siriano was also noted for being one of the first in A-list design to use his manufacturing warehouse to produce, package and deliver face masks at the start of the pandemic. The quarantine that ensued after his beginning efforts allowed Siriano to rewatch his favorite childhood films. The films heavily influenced his spring collection. 
"It was kind of cool to see all those things come back to life," Siriano said in an interview with Vogue magazine.
Siriano was not the only designer forced to change their brand as a result of the pandemic. Spring Studios, the normal home for Fashion Week content, created outdoor spaces for many brands to showcase their work while following strict guidelines from medical professionals and government officials.
Many shows were streamed online, allowing for less in-person contact and more viewing opportunities for the general public. Christian Dior showcased his spring 2021 items in-person and virtually. Dior had a small number of spectators at this year's Paris Fashion Week but offered a live stream for audiences at home via social media platforms, like TikTok and Instagram Live.
With the growing impact of social media, the trends of Fashion Week 2020 took to all platforms. Influencers were seen predicting popular trends for spring 2021 shows and putting together their own "must-have" lists. Clothing and accessory powerhouse Gucci was even seen campaigning for their popular trend, #GucciModelChallenge, across multiple platforms. With a voice-over originally created by TikTok user Morgan Presley, individuals were told to layer different articles of clothing, adding in the staple Gucci headscarf and handbag. Gucci has since posted their favorite videos, popularizing multiple social media accounts in the process. 
This year's shows strung together a great new profile for all style lovers. Leather made its presence known as a staple piece on and off the runway. Deemed a fall fashion "must-have" by many influencers, it is no surprise that we saw huge brands like Prada, Coach and Lela Rose incorporating the material into their outfits. From pants to trench coats, leather was a prominent material this year.
Another notable trend seen on the catwalks were two-piece sets, ranging in designs from brands like Fendi, Tom Ford and Tibi. Offering a wide range of pantsuits, skirts and tops, the street style influences were all over many different runways. To add a tasteful flair to some of the extra-long bottoms from the sets, strappy heels were paired. The midriff and foot exposure gave the otherwise cold looks a warm, spring feel. As a smaller detail, Dior offered double-strapped belts to his roster, tying the looks together with a sense of uniformity.
Dimension was added by multiple creators to differ their looks from other brands. Sharp shoulders were seen throughout Claudi Li, Sinq A Sept and Balenciaga shows. Already used in minimalistic styles this fall, it was a quick crowd favorite and added a chic level of professionalism to an otherwise basic look. Ruffles, frill and fringe were showcased on many different models this season. Salvatore Ferragamo, Rodarte, Gabriela Hearst and Ulla Johnson went big with their over-the-top gowns and sweaters.
As for popular colors, Burberry and Marc Jacobs were seen swinging for the fences with their color blocking. A wide mix of neutrals and soft tones were big this season, and floral made another come-back, a normalcy in spring shows. Brand Kenzo even tied in full floral face shields, a testament to the adaptation of fashion with global influences.
Fashion Week 2020 was one for the books; amidst a global pandemic, the future of fashion was forged in the seams of this year's couture. 
In the words of designer Giorgio Armani, "I think it is mandatory [that we] adjust, improve and reshape the values of fashion." 
In times like the present, transition is inevitable, and Fashion Week 2020 set the precedent in more ways than one for the future of fashion and culture around the world.