Get involved with HPU's residence life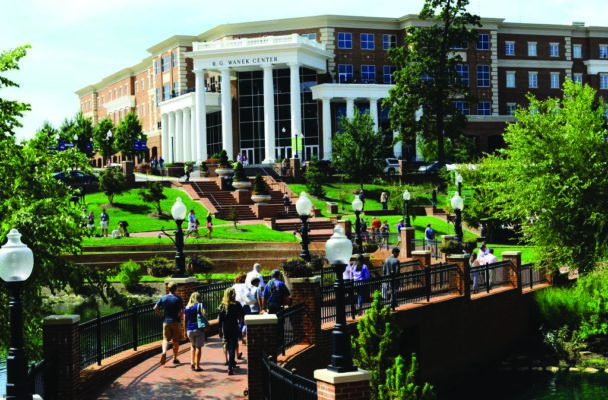 By Elise Coby
Organizations Editor
Currently, High Point University has live applications until Oct. 24 for students interested in becoming a resident assistant for the 2021-2022 academic year. 
HPU's Department of Housing and Residence Life is hosting two web-based information sessions through Blackboard Collaborate on HPU's Campus Connect website. The first session was held on Oct. 8. The second will be held from 6 to 7 p.m. on Oct. 21. During the sessions, students can ask questions about the application process and job description. 
Resident assistants, commonly known as RAs, are student staff members who live in each residential community to provide daily support and resources to other students in their communities. RAs are also on duty in their building's lobbies from 11 p.m.-1 a.m. on weekdays and 7 p.m.-3 a.m. on weekends.
RAs on duty can assist students with lockouts and roommate concerns. They can also connect with professional support resources, including campus security, the resident director on duty and the counselor on call.
Other general responsibilities of becoming an RA include introducing students to residence halls, helping them in their general orientation to campus and providing them with information about resources on and off-campus. They promote and plan activities and programs that correspond with students' interests. They also interpret and enforce the university's policies, rules and regulations, and mediate conflicts between residents to maintain a stable and comfortable living environment for everyone.  
The job necessitates serving as a role model for peers and incoming students. 
"Before applying, you should really evaluate your motivations and talk to others in the position," said Davia Rose Lassiter on Affordable Colleges Online's article, "Taking a Resident Assistant Job in College." 
Lassiter worked as a resident assistant at the University of Southern Mississippi in the early 2000s. 
"If you are [only] motivated by the financial benefits, you will not be 
successful in this role," said Lassiter. "However, if you enjoy serving others and want to have a significant role in the lives of students, while adding to your own personal development, then go for it."  
While the job holds great responsibility and may be time-consuming, becoming an RA in college is a great way to build personal and professional skills. 
"It is absolutely crucial that RAs stay dedicated to growing their abilities to work inclusively with a diverse group of students," Sara Friend said in an article on a campus engagement platform called Presence. "That means they should aim toward social justice in their work and focus on creating a comfortable environment for all students, where everyone is respected and cared for appropriately. Doing this work helps you understand what sorts of institutional barriers students encounter and how you can advocate for them and empower them to advocate for themselves."
Friend also stated that taking on a job as an RA was "life changing" and that she wouldn't want to have it any other way. While she was offered compensations for the job, such as paychecks and housing, the experience, according to Friend, was far more rewarding. 
All RA applications are due by Oct. 24. For more information, students are encouraged to contact the director of Resident Life, Crystal Crouse, at ccrouse@highpoint.edu, or attend the upcoming Blackboard Collaborate informational meeting on Oct. 21.