Judge Barrett deserves to serve on the U.S. Supreme Court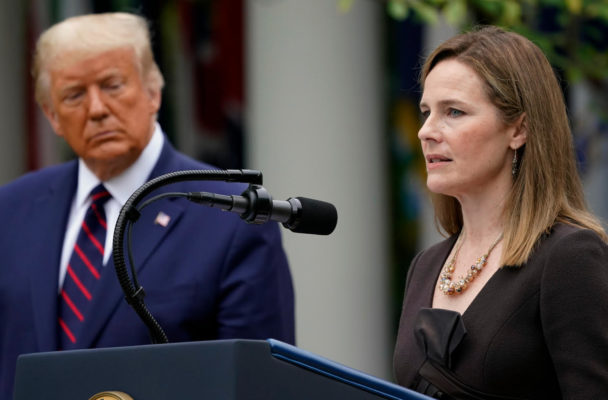 By Ally Ortolani
Opinion Editor
Amy Coney Barrett, a judge on the U.S. Court of Appeals of the Seventh Circuit, was nominated for the Supreme Court seat by President Donald J. Trump, following the death of late Supreme Court Justice Ruth Bader Ginsburg. I applaud Trump's nomination. This move could significantly shift the nation's highest court in the right direction if Barrett is confirmed by the Senate.
"She is a woman of unparalleled achievement, towering intellect, sterling credentials and unyielding loyalty to the Constitution," Trump said. 
Barrett is his third Supreme Court nomination in his nearly four years in office.
Barrett studied law at Notre Dame Law School on a full-tuition scholarship. In addition, she was an executive editor of the Notre Dame Law Review and graduated first in her class in 1997 with a Juris Doctor summa cum laude.
These achievements are just the tip of the iceberg. 
Barrett met her husband, Jesse Barrett, at Notre Dame Law School in 1999. You can frequently find them at Notre Dame tailgates together. They live with their seven children — all under the age of 20 — including two adopted children from Haiti and a child with Down syndrome. 
At the age of 48, Barrett would be the youngest justice on the bench, if confirmed. 
Barrett is a well-educated, hard-working mother with seven children, whom she all loves and adores. Barrett is truly a model citizen. She exudes class. 
Senate Judiciary Chairman Lindsey Graham hailed Barrett as "highly qualified in all the areas that matter — character, integrity, intellect and judicial disposition."
Barrett is known for her unwavering conservative values and for being a devout Catholic. 
In fact, Democrats are questioning the possible impact of Barrett's Catholicism on her legal philosophy. This is primarily due to Barrett's reported membership in the conservative Catholic "covenant" community known as People of Praise. The organization holds highly traditional social views — views that go directly against the Democratic party. It's no surprise that the Democratic party wants to complain.
Here are some of the most notable stances Barrett has taken that might indicate the effect she could have on the Supreme Court's legal philosophy:
Abortion
Barrett has been involved with a handful of cases about abortion. 
According to a Sept. 25 Fox News article, "In one 2018 case, she dissented from a denial of en banc rehearing — meaning she wanted the entire court to reexamine a decision by three judges — after the Seventh Circuit ruled an Indiana law that banned abortions committed due to the fetus's sex, race or potential disability as unconstitutional."  
Democrats fear that if Barrett is confirmed, she will attempt to overturn Roe v. Wade. Given that Republicans hold the majority in the Senate, Barrett's stance on abortion might affect her legal philosophy.
Do I agree with Barrett? Absolutely. Life begins at conception, and that is something I fiercely stand by. 
According to AP News, Barrett has voted at least twice on abortion issues as an appellate judge, both times joining dissenting opinions to decisions in favor of abortion rights.
Immigration
For the most part, Barrett agrees with the Trump administration on immigration cases. 
In Yafai v. Pompeo, Barrett backed a State Department decision to deny a visa to the wife of an American citizen. Allegedly, the wife attempted to smuggle in children, despite the fact that the parents said their children had died in a drowning accident. The decision was reconsidered, but the wife was still not given a visa.
My mother is an immigrant from the Philippines, which is a developing nation. She came here legally at 9 years old with her family of eight, while her father served for the U.S. Navy. Similar to Trump's and Barrett's beliefs, I think individuals who wish to come to the United States must come legally. It's insulting to see individuals cheat the system when my mother's family came here legally. 
I stand by Barrett's stance on immigration, and I hope it's used in the Supreme Court's decision-making.
Due Process
In Doe v. Purdue, a due process and Title IX challenge, a Purdue University student was accused of sexual assault. He lost his Navy ROTC scholarship.
The defendant and accuser were referred to as John and Jane Doe to maintain their anonymity. Jane alleged that after a night of sleeping together, John groped her while she was unconscious and digitally penetrated her without her consent. John denied the accusation. 
A Fox News article mentioned how Purdue allegedly wrote a report that "falsely claimed that [John] had confessed to Jane's allegations," refused to let John see evidence in the case, did not allow him to present witnesses, did not let him cross-examine Jane and later "found him guilty by a preponderance of the evidence of sexual violence."
In the appeal case, Barrett ruled in favor of the defendant because of her strong beliefs in due process. I agree with her decision because every individual has the right to a fair trial.