Recapping the first presidential debate as the second nears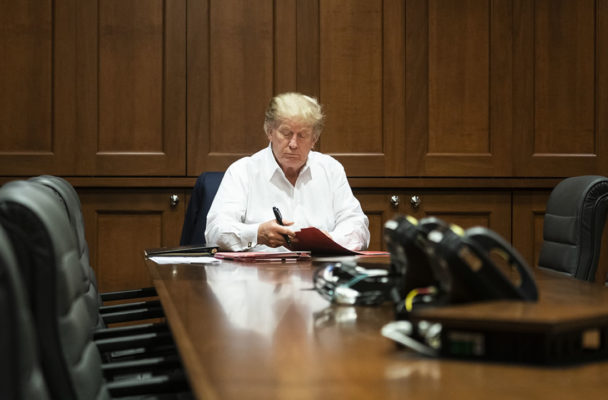 By Nicholas Bainbridge
News Editor
The first presidential debate made headlines across the world. A second debate was planned for Oct. 15, as President Donald Trump and Joe Biden were to meet at the Adrienne Arsht Center for Performing Arts in Miami, Florida. However, this was canceled due to COVID-19 concerns and the president testing positive for the disease. There are still plans for the final debate to take place at Nashville, Tennessee's Belmont University on Oct. 22 at 9 p.m. The majority of major news networks, including Fox, NBC and CNN, will broadcast the event. 
There were many topics discussed in the first debate, and they may be referenced in the next. To prepare, here's a recap of the first presidential debate broadcast from Case Western Reserve University in Cleveland, Ohio, on Sept. 29.
Supreme Court
The first topic was Trump's nomination of Judge Amy Coney Barrett to replace the late Justice Ruth Bader Ginsburg on the Supreme Court. Biden accused Trump of abusing his power in nominating the judge. Trump defended his choice, claiming it is the result of democracy.
"We won the election, and elections have consequences," Trump said. "We have the right to choose her, and very few people knowingly would say otherwise." 
Biden contested Trump's assertion that the American people have already spoken on this issue, claiming that people should be allowed to choose through the current election.
"The American people have a right to have a say in who the Supreme Court nominee is, and that say occurs when they vote for United States senators and when they vote for the president of the United States," Biden said.
Healthcare
The Affordable Healthcare Act, also known as Obamacare, was a major issue for discussion. Moderator Chris Wallace questioned Trump about his apparent failure to repeal or substantially change it. This led to a disagreement where Trump argued that he did change some aspects of Obamacare, but he did not outline extensive plans of his own healthcare policies. 
Biden has his own plans for Obamacare, seeking to expand it with a public healthcare option. The Democratic candidate acknowledged that some of his critics assert it would lead to the end of private healthcare. He explained that these claims are unfounded, as only the poor could qualify for it. 
"It's only for those people that are so poor that they qualify for Medicaid," Biden said. "They can get that free in most states, except for states where governors want to deny people who are poor Medicaid. Anyone who qualifies for Medicaid would automatically be enrolled in the public option. The vast majority of the American people would still not be in that option." 
COVID-19
The candidates were asked to represent themselves as more competent at handling the health crisis. Biden focused on criticizing Trump's handling of the virus before explaining how he believes the pandemic should be handled. 
"He knew all the way back in February how serious this crisis was," Biden said. "He knew it was a deadly disease. He's on tape saying that he knew it … We should be providing all the protective gear possible."
Trump responded in kind, claiming that Biden was the one who behaved irresponsibly and that his plan would have suffered far worse. Trump brought up Biden's opposition to his push to shut off travel between the U.S. and China, the origin of the virus.
"If we would have listened to you, the country would have been left wide open," Trump said. "Millions of people would have died, not 200,000, and one person is too much … I closed [the country] and [Biden] said, 'He's a racist and xenophobic,' because you don't think we should have closed our country."
Trump claimed that his management of the pandemic was more appropriate, referencing Dr. Anthony Fauci, one of the most cited medical researchers and director of the White House Coronavirus Task Force. 
"In fact, Dr. Fauci said, 'President Trump saved thousands of lives,' and many of your Democratic governors said, 'President Trump did a phenomenal job,'" Trump said.
Economy
The candidates also discussed the economic recovery of the nation as it reels from COVID-19. Neither candidate disputed that the economy was recovering faster than expected; however, they had different interpretations. Trump believes that the country will continue to perform well with its recovery and encourages people to continue returning to their careers. 
"We built the greatest economy in history," Trump said. "We closed it down because of the China plague … We closed it down, and now we are opening. We are doing record business. We had 10.4 million people in a four-month period that we've put back into the workforce. That's a record we have never seen before, and [Biden] wants to shut it down again."
Biden used the opportunity to attack Trump for his financial wealth and argue that it is Trump's fault that people lost their jobs when COVID-19 came to the U.S. 
"Millionaires and billionaires like [Trump] in the middle of the COVID crisis have done very well," Biden said. "But you folks at home, you folks living in Scranton and Claymont and all the small towns and working-class towns in America? How well are you doing? He is the first president in the United States having fewer jobs in his administration than when he became president."
Biden plans to implement substantial increases in taxes for people and corporations with an income exceeding $400,000 each year. Trump alleges this would harm the economy, as it recovers from the COVID-19 recession, but Biden stated that his economic plan would create jobs.
"The federal government spends 600 billion dollars a year on everything from ships to buildings and steel and the like, and under my proposal, we are going to ensure that every penny of that has to be made by an American," Biden said.
Race Relations
On the topic of race issues, Biden focused on how he found Trump's responses to racial conflicts in the past four years to be unjust.
"It's about equity; it's about equality; it's about decency," Biden said. "We have never walked away from trying to acquire equity for everyone. We've never walked away from that like [Trump] has … When [George] Floyd was killed, there was a peaceful protest in front of the White House. What did [Trump] do? He had the military use teargas on [the protestors]."
Trump contended with Biden's characterization of him and asserted that Biden has done significant harm to African Americans, bringing up how Biden co-authored legislation that led to mass incarceration of black men in the U.S.
"[Biden] did a crime bill, 1984, where [he] called [African Americans] 'super-predators,' and they've never forgotten that," Trump said. "You have treated the Black community about as bad as anyone in this country."
Police 
On the issue of law and order, Wallace asked Biden if he supported Black Lives Matter's call for community control of policing. Biden responded with the importance of ensuring that the police receive proper funds.
"What I support is the police having the opportunity to deal with the problems they face," Biden said. "And I'm totally opposed to defunding the police officers. The only one defunding them is [Trump]. His budget calls for a $400 million cut in local law enforcement assistance."
Biden explained that he plans for police teams to work with mental health professionals to find means of de-escalating violent conflict without the use of deadly force. 
Trump accused Biden of missing the point of what BLM is requesting, saying that the movement is demanding the complete defunding of police. He challenged Biden's ability to garner support from law enforcement, asking him repeatedly to name a single law enforcement group that supported him, but Biden didn't name one.