New Student Health Center helps mitigate COVID-19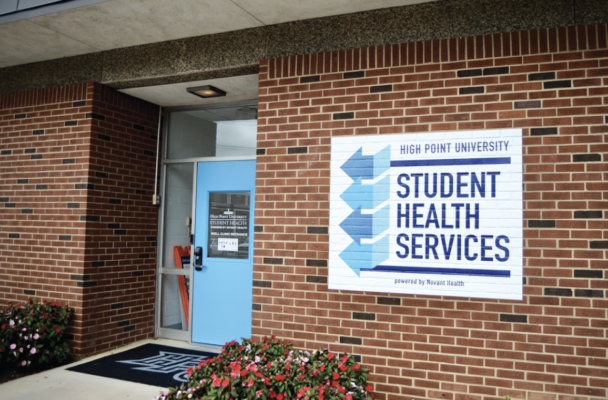 By Elise Coby 
Organizations Editor
High Point University continues to implement safety measures to keep its students and faculty safe.
 As part of keeping the coronavirus under control, HPU has opened a new health center. The center is supported by Novant Health, a network of clinics and hospitals with locations across multiple states. The HPU Student Health Center is located in the new Parkway Commons at 1300 University Parkway, across from the Nido and Mariana Qubein Arena and Conference Center. The center is open Monday through Friday from 8 a.m.-5 p.m. during the academic year. 
Gail Tuttle, senior vice president for Student Life at HPU, explained that the clinic has been useful for controlling the spread of COVID-19 by letting it test students and treat those who have the virus. 
"Being able to have a designated clinic space for suspected COVID cases has been a mitigation measure that was planned and needed for our campus community," Tuttle said. "Novant and HPU worked through this plan collaboratively. This collaboration was immediate, early in March, to best understand our response and necessary measures needed for the protection of our students and staff."  
A notable impact of HPU's health and safety efforts is the drop in the number of COVID-19 cases. The current active case count is at approximately 30, accounting for 0.5% of the 6,603 population of HPU students, faculty and staff.
"The Health and Safety Task Force continually evaluates our response, the number of cases and impact to the entire university community," Tuttle said.  
Along with COVID-19 management, the center is also providing flu shots. Those interested in signing up for one of these clinics can contact Student Health Services at studenthealth@highpoint.edu. 
Tuttle explained that one of the most important things for students to do is abide by the precautions that help limit the spread of COVID-19. 
"Embrace the preventative measures that have been in place; don't forget the importance of washing hands, social distancing and wearing masks," Tuttle said. 
It is of great importance for the HPU community to remain compliant with the precautions used to keep the virus at bay. 
For further questions and concerns about COVID-19 management at HPU, students can contact Tuttle at gtuttle@highpoint.edu or HPU Health Services at 336-841-4683, especially if symptomatic.