English Club hosts 'Virtual Reading Nights'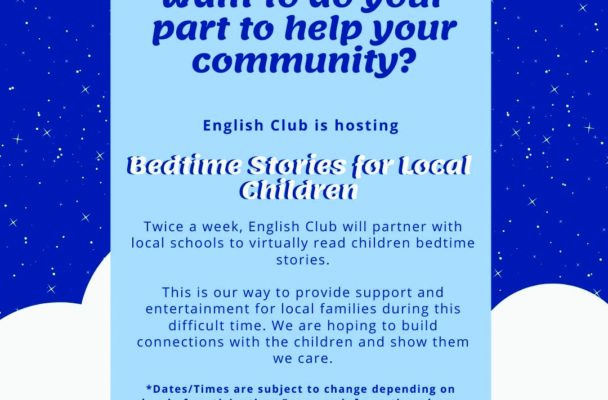 By Elise Coby 
Organizations Editor
Currently, High Point University's English Club is hosting "Virtual Reading Nights" for HPU students to connect with the Triad community. 
The idea was proposed by English Club president Leslie Bosse in September and became a volunteer service opportunity in October.  
"Volunteers can be anyone, not just English Club members," Bosse said. "On Virtual Reading Nights, a volunteer joins a Zoom call on Monday or Wednesday at 7 p.m. to read to scholars from a local charter school."
English Club is specifically presenting the Virtual Reading Nights to The Point College Preparatory and Leadership Academy located in Jamestown, North Carolina. 
"The scholars, what the school prefers to call their students, are amazing," Bosse said. "I worked with them last semester for a service-learning class I did. As soon as COVID-19 hit, and I was trying to come up with safe things for the English Club to do, I thought of this idea and planned to partner with them."
Many academic communities, including HPU's, have had to reshape their normal academic year to abide by COVID-19's safety measures. As a result, virtual communication plays a large role between teachers, students and volunteer services, such as English Club's newest involvement with The Point. 
"[The Point] not only gains the interaction with the university but we also get to help out these families in a time where kids are home all the time," said Piper Henderson, English Club's social media representative. "We wanted to be able to provide a short amount of time that isn't schoolwork that would be fun and entertaining for the kids."
"The school is completely virtual right now, and a lot of the scholars at The Point don't have access to reading like they did when they were physically attending school," Bosse said. "This is especially difficult for the K-5 scholars who are developing their reading skills and missing out on those crucial years of in-person education.
English Club officers hoped that this event would give the kids an extra opportunity to interact with reading but also to just have a fun, relaxing activity to look forward to a couple of times a week."
The event is also a great way for HPU to remain involved with other communities outside of campus even with COVID-19's impact. 
"Since we can't do anything in person, it is hard to interact with anyone outside of campus," Bosse said. "This is a really great way to interact with a lot of kids from the community. Both our club and The Point are very excited for this opportunity to bond our campus community with the local community."
"Virtual Reading Nights" are not only fun for the attending kids but also for volunteers that get to read to them. 
"My favorite part of the event is when I get interaction from the students," Henderson said. "I read a book that had questions in the plot, and hearing how excited they were on the call made me realize how much of an impact our small event is having."
"[The kids] are so smart, bubbly and outgoing," Bosse said. "When I read to them for our first reading night, they would jump in and comment on the book because they were so invested in the story. That is definitely the best part. I love interacting with them and getting to know them."
Students who are interested in volunteering for November's "Virtual Reading Nights" with English Club are encouraged to contact board members at englishclub@highpoint.edu.