Forming bonds with students over food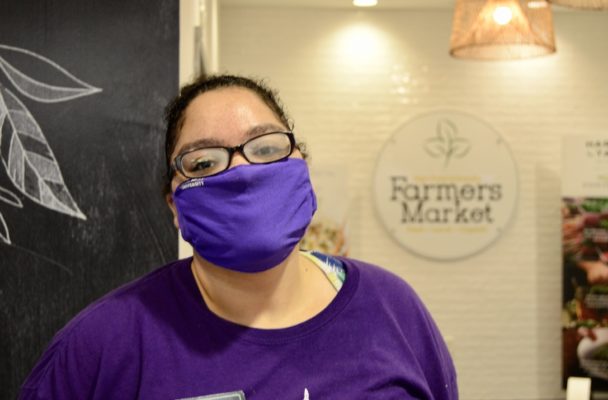 By Nina Volpe
Staff Writer
Each and every day, students can walk up to a counter of already prepared food at nearly all times of the day and night and simply swipe a card to satisfy their hunger. Whether they visit The Café in the John and Marsha Slane Student Center or the R.G. Wanek Center's The Point or Farmers Market, many of the same faces greet them, plate in hand.    
One of those faces is Michelle Sidney. She works behind the counter, cooking up stir-fry and tacos at Farmers Market. Sidney has been working at High Point University since August, and she enjoys what she does.  
"My favorite part is mostly the students," Sidney said. "Some of them just brighten your day. They are just awesome. They make the day go by smoother and faster, and it's just great."
As much as she loves the students, her expert taco-building skills and unmistakable charisma have gained her love from the students as well. 
"It all started with me," said freshman Ryan Thomson. "I came and was in line. It was pretty simple, and someone said, 'Are you ordering?' Michelle looks over and goes 'He's a mobile order; he's always a mobile order.'" 
"One day, she just knew my name and order," freshman Logan Howerton said. "I walk up, and she's like 'Hey Lo, here's your taco, girl.'" 
Howerton, Thomson and their friends, Jason Hinke and Hannah Tameling, eat tacos for lunch every day of the week. But what started as just a taco obsession, turned into a real friendship from just across the plexiglass.  
Thomson explained that Sidney noticing his order patterns was uplifting. 
"I felt recognized and cared for, which is so hard at a school with thousands of students," Thomson said. "Sometimes you feel like just another fish in the sea, but she showed me that she truly cares and is just the best."
The appreciation is mutual, as Sidney explained that she feels a kinship with the group of students.
"I love them," Sidney said. "They seriously brighten my day every time they walk in. I love them; they're awesome."
Sidney says that she likes all students that come through the line, but they are a special bunch. 
"With them, it just feels like I have known them my whole life," Sidney said. "It is just something where I could see them outside of work and actually hang out with them. They have so much joy, and they make sure to share it."
The students decided to get Sidney a gift to show just how appreciative they are of her and her taco-building skills, including the very important element of double queso. They explained that they wanted to make her feel seen, just as she had done for them.  
"Just a little something," said Howerton. "A gift card, a little cup, purple of course, and some candy." 
What might have been just a "little something" to Howerton and her friends meant a great deal to Sidney.  
"It was just so unexpected, but it was awesome," said Sidney. "That morning wasn't going so well. I had spilt sour cream all over me, and I was just convinced that it was going to be a bad day. Then, they brought [the gift] in, and I said, 'You guys are going to make me cry.' I had to fight it back. It brightened my entire day."
Food service is no easy task, especially when dealing with thousands of hungry college students. Sidney does it with a smile and notices when students smile back, despite the masks. There are so many people that go into making students' experiences on campus enjoyable.