Student developers create interactive models of HPU dorms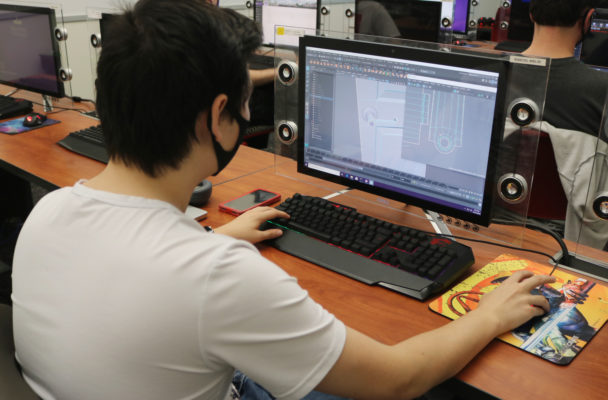 By James Last
Staff Writer
Game design and strategic communication students are joining forces this semester at High Point University. What might sound like an unlikely combination has proven to be a success. Under the leadership of Brian Heagney, instructor of communication, a team of approximately 25 students was tasked with creating and marketing a game.
However, the students opted to create something slightly different from a game and much more relevant to a post-COVID-19 world. The project, dubbed "3D HPU," is a 3-dimensional, photorealistic, digital model of an HPU dorm room.
"This is not the only idea that was considered by the class," said HPU sophomore Kendrick Tan. "Everything from a board game to a children's mobile game to a virtual escape room was evaluated. At the end of the day, the students voted that this project would be the best option."
While not a game, the project will be designed and modeled using Unreal Engine 4, the same platform in which popular games, like "Fortnite" and "Rocket League," were developed. The end goal of this project is to make it a virtual reality experience.
"One of the largest hurdles we are facing is that every single game design student is new to using this professional 
platform," said Heagney. "This project is very ambitious for a single credit hour course." 
As a result, each game design student is responsible for completing their own tasks each class period. Some are generating textures. Some are modeling. Others are working on lighting. At the end of each day, students' work is posted on a central server and combined into a single working file.
Strategic communication students are excited for the opportunity to research and market a product that is relevant to HPU. 
Juniors Kaylee Baylock and Anna Harris worked together to survey 70 students about the various aspects of living at HPU. Seven out of 10 surveyed students admitted that dorms were a deciding factor of attending HPU. Moreover, 87% of surveyed students believe that HPU showcases its dorms well to incoming freshmen. 
Students are using this survey data to shape how they are creating the interactive dorm experience. For example, data shows students' favorite dorm is Caffey, so it is the dorm location being modeled for "3D HPU."
Strategic communication student Spencer Hazen has been tasked with visualizing and designing the overall aesthetic and user interface of this product.  
"This has required me to 
research HPU's current branding practices and to collaborate with the game design students," Hazen said. "The process has taught me a lot about the logistics and effort it takes to create a successful and attractive product."
Students will use the BEACON Lab in the Nido R. Qubein School of Communication to test a series of user interfaces and determine where the human eye first travels in the scene. The approaches, experiences and methods of this project are a collective part of the holistic education students receive at HPU. The ability to work with different types of people from different majors and backgrounds is a crucial skill to develop in an increasingly globalized and interconnected workforce.