How COVID-19 has changed the concert experience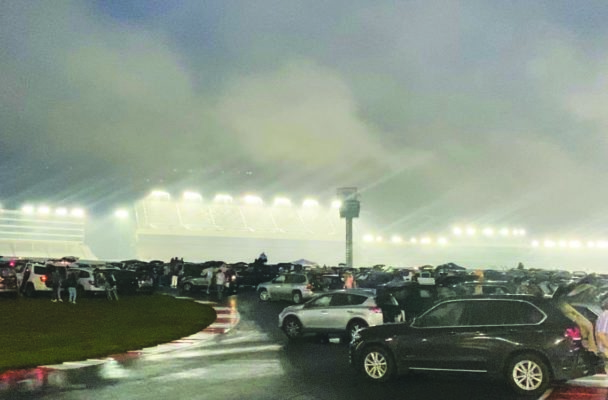 By Olivia Krumpe
Staff Writer
As the world began to learn more about the COVID-19 virus, it seemed as though concerts and live music may be some of the last things to return. However, after more than seven months of living in a world defined by masks and social distancing, several artists have found creative ways to perform.
One of the first concerts was performed by Travis Scott on April 25, on "Fortnite," an online, cross-platform video game. Although the performance was not live, and Scott's character was rendered and animated to make it more interactive and concert-like, people still showed up. According to Epic Games, the developer of "Fortnite," over 12.3 million players joined the game to view the concert. 
Gamemakers designed a separate nonviolent world in which these concerts are held. On the island, there is a stage and theatre for people to place their characters to view the concert.
Because of its success, Epic Games organized more concerts. Steve Aoki, Deadmau5, Diplo, Kenshi Yonezu and Dominic Fike all performed their music on "Fortnite" in August and September.
Liam Payne has also stepped into the world of virtual concerts. The former One Direction (1D) star has created a series of shows, entitled "The LP Show." In these shows, Payne performs solo music and 1D songs and answers fan questions. 
The series has had three acts and was first announced via Payne's Twitter on July 8.
"I'm so excited to announce Act 1 of 'The LP Show,' broadcasting in real time on Friday, July 17," Payne tweeted.
The "Strip That Down" singer partnered with Veeps, a ticketing platform, and offered tickets on a pay-what-you-want basis, starting at $10. A portion of the proceeds went to The Trussell Trust, a charity that is working to end hunger in the United Kingdom. Through these shows, Payne is also employing musicians and touring crews that are unemployed due to the pandemic. 
After selling out Act 1, Act 2 was set for Aug. 28, where Payne performed with special guest Mae Muller. Act 3 is set for Oct. 31 and will be a special Halloween edition with special guest Tom Felton. 
Payne's 1D bandmate, Niall Horan, is also dipping his toes in the world of virtual performing. On Oct. 13, Horan announced that he will be performing a live-streamed concert from the Royal Albert Hall in London. The show will take place on Nov. 7. Tickets are $20. The profits will be split between the "Nice to Meet Ya" singer's touring crew, who have been working with him all spring and summer, along with WENEEDCREW, an organization that supports unemployed U.K. touring crews during the pandemic.
Although it seems the virtual concerts could be a COVID-19-friendly solution, a few people, including some High Point University students, have had the opportunity to experience live, in-person concerts. 
On Sept. 25, Quinn XCII and Chelsea Cutler performed the first of a series of drive-in concerts. This one was performed at the Charlotte Motor Speedway in Concord, North Carolina. 
Attendees drove their cars out on the raceway and parked in their ticket's designated area. The ticket allowed admittance for up to five people in a single car. Once parked, attendees could change the radio station to have the music broadcasted into the car. They could also choose to sit outside their car, as long as they stayed right next to it. To limit the spread of COVID-19, if for any reason someone had to leave the area of their car, they had to wear a mask. 
HPU freshman Karleigh McGuire attended the drive-in concert and enjoyed the unique event. 
"Going to the Quinn XCII concert was definitely an interesting experience," McGuire said. "Having to wear a mask and social distance at a concert is something I never thought I would have to do. But it still was a great time, and it gave me an experience I will never forget."
Quinn XCII and Cutler also performed at the Westland Mall in Columbus, Ohio, on Sept. 26, along with two more drive-in concerts at the SeatGeek Stadium in Chicago, Illinois, on Oct. 23 and 24. 
As long as the pandemic is around, artists will have to continue to be flexible and creative with the ways they perform live music and shows.