HPU Dining's Think Tank gets the scoop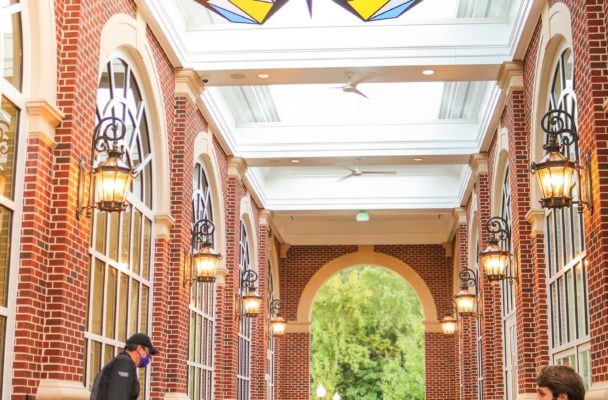 By Faith Foushee
Digital Media Editor
Every month, High Point University's dining team hosts a Think Tank led by Director of Hospitality Services Kevin Summers. The purpose of the Think Tank is for students to provide their input and feedback on current and potential dining changes and updates. The latest Think Tank was held on Oct. 6 in the newest dining location on campus, The Butterfly Café. There were about eight students in attendance, all socially distanced and wearing masks. 
While waiting for the conversation to begin, attendees sampled Gnam Gnam gelato, hummus and chips, olive plates and sweet cream cold brew. I tasted the strawberry sorbet gelato and the white chocolate mocha. Both were flavors I had never tried before.
The strawberry sorbet would be perfectly refreshing on a summer day. It had the taste of real strawberries, rather than tasting like strawberry flavoring. I really enjoy black coffee, so the white chocolate mocha was delicious and not too sweet. Someone who enjoys very sweet coffee might opt for a different option. 
"I am used to drinking very sweet coffee, so the sweet cream cold brew was still a little bitter for my taste," said Faith Griffin, an HPU sophomore and entrepreneurship major. 
The hummus and chips were so delicious that I had to try them twice. The hummus was very fresh and paired perfectly with the pita chips. I enjoyed the pita chips because they were not incredibly hard or crisp, but they still had a level of softness to them that fit well with the hummus. 
Summers opened the conversation by asking about the students' experience at the Butterfly Café. Overall, many of the comments were positive.
"I really like how we are able to just go down the line when ordering in the Butterfly Café, rather than going to different stations like we do in the Café," said HPU junior Lilly Sacchini. 
Other topics of conversation included the mobile experience and meal plan changes. 
I have enjoyed the mobile ordering experience this year, mainly because it allows me to order a Starbucks coffee from my room. And it's waiting for me by the time I arrive to pick it up. This option decreases wait time for the drink and prevents standing in long lines. I am able to have more time to get to class or work. 
The biggest change to the meal plan this year is that all meals are considered magic meals, rather than only having seven. 
"Every meal as a magic meal change is a COVID-19 safety-related change to manage capacity concerns and may not stay permanently, but as always, we listen closely to student feedback and will certainly consider the change as a permanent one post-COVID-19," said Summers.
The change to all magic meals allows more flexibility for students. Students no longer feel the need to save magic meals or keep up with how many we have. This change has also allowed there to be less traffic in dining areas, like The Café in the John and Marsha Slane Student Center and The Farmers Market in the R.G. Wanek Center, so these dining halls can stay within the health and safety guidelines.
There are many upcoming dining events and pop-ups for students that are posted on HPU Dining's website, dining.highpoint.edu. One event I hope to attend is the Farm to Fork dinner on Oct. 29. Photos from the previous Farm to Fork dinner left me drooling. 
Students can attend the Farm to Fork events by entering a contest posted on HPU Dining's Instagram, @hpudining. The most recent one was posted on Oct. 21, and winners were contacted on Oct. 28. Selected students will get to taste special menu items made by a Harvest Table chef. Students will also learn about HPU Dining's sustainable practices with dishes, including their ingredients received from local farms.
Every Tuesday and Friday afternoon from 3-4 p.m., HPU Dining hosts pop-up events at the kiosk near Earl N. Phillips School of Business. They give away free snacks, such as cake pops, s'mores in a cup and burger sliders. There are also many Thanksgiving-themed dining events coming up in November, including a Friendsgiving Lunch in the Café from 10:45 a.m. to 3 p.m. on Nov. 19. More information on these and other dining events can be found on HPU Dining's website. 
HPU Dining's Think Tank is a fun opportunity to try delicious snacks and get the inside scoop on upcoming dining changes. The event also allows attendees to share their thoughts, concerns and questions about dining changes or plans. Before leaving, all attendees are provided with a free magic meal to thank them for coming.