Movies on campus return for the spooky season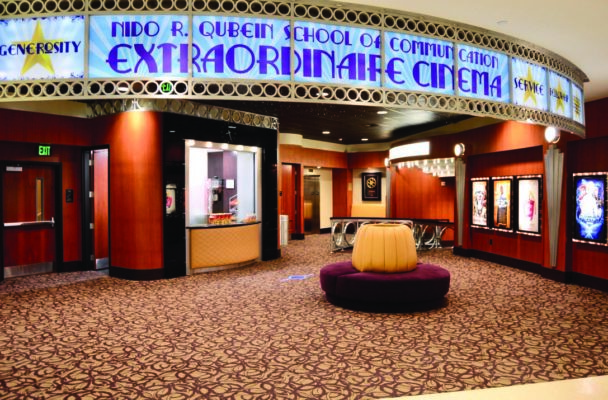 By Emma Ralls
A&E Editor
Located on the lowest level of the R.G. Wanek Center, the Extraordinaire Cinema is one of the most popular locations on High Point University's campus. The films and snacks provided at screenings and events are complementary to students and are sometimes themed to match a particular feature.
Due to the COVID-19 pandemic, there was a prolonged period of time during which the cinema was forced to halt screenings and events. Much like theaters around the world, the Extraordinaire Cinema was closed to help limit functions with large groups of people in a confined space. 
On Sept. 19, HPU's Campus Activities Team posted an announcement on Instagram, saying that movies would be resuming at HPU on Sept. 20, with the movie "Bombshell."
"The moment you've all been waiting for…the Cinema is now open," the post's caption read. 
The caption went along with a photo of four movies that would be shown at the Cinema, including "Ferris Bueller's Day Off," "Scoob" and "Black Panther."
In the same post, it was also announced there would be a new way to watch movies this semester: weekly outdoor movie nights in the Cottrell Amphitheater. Like the Cinema, the outdoor movie nights are free of charge and provide the same free snacks.
According to Carolyn Rauch, assistant director of Campus Engagement and Student Activities, outdoor movies aren't something entirely new to HPU. During the summer, HPU often hosts outdoor movies, so when thinking of socially distanced events for students, Rauch and C.A.T. were happy to deliver.
"We were contacted by a local vendor," Rauch said. "When given the opportunity, we decided to book their equipment for every Saturday."
The turnout has been normal at the Cinema events, as well as the outdoor movies, averaging 30 to 60 students. HPU and C.A.T. are making sure these events conform to the university's health guidelines, while also providing a fun activity for students. 
"Outdoor movies are pretty easy with that," Rauch said, when asked how C.A.T. is making sure these events are as COVID conscious as possible. "Students are sitting six feet apart, unless they are with the group of people they came with, and are wearing their masks, unless they are eating. Then, we make sure they sit a little further away."
In the Cinema, much like HPU's classrooms, seats have markers to show where students can and cannot sit. There is also hand sanitizer available for all attendees, as well as wipes to disinfect any surface, at both the Cinema and the outdoor movie events.
Along with movies, C.A.T. streams football games on Saturdays and Sundays in the Extraordinaire Cinema. Students can watch college football every Saturday and NFL Redzone on Sundays. These events have been a major hit with the student body and will continue through the end of the semester.
C.A.T. is excited to host more events, especially Halloween-themed ones, as Oct. 31 approaches.
"We have some fun Halloween movies coming up," Rauch said. "We started celebrating the season [on Oct. 17] with 'Harry Potter and the Sorcerer's Stone,' so we started our spooky season with some magic. On Oct. 31, we have a Halloween festival with the new 'The Addams Family,' as well as one of the scary 'Halloween' movies."
Students can also go and see "The Nightmare Before Christmas" at the Cinema on Nov. 4. 
For more announcements about upcoming events in the Extraordinaire Cinema and outdoor movies in the Cottrell Amphitheater, students can follow @hpucat on Instagram and check involved.highpoint.edu.