A 'Positions' review by someone who doesn't listen to Ariana Grande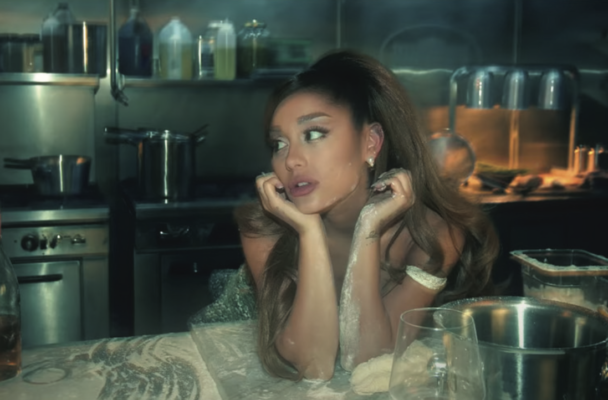 By Olivia Krumpe
Staff Writer
On Oct. 30, pop star Ariana Grande dropped her latest studio album entitled "Positions." It debuted at number one on the Billboard 200 chart and is her third No. 1 album in the last two years and three months. According to Billboard, it is the fastest a female artist has earned this with three proper studio albums. "Positions" is Grande's sixth studio album and has 14 songs, three of which are collaborations.
The first track off the album, "shut up," is lyrically simple, and Grande incorporates her impressive vocals and harmonies throughout the chorus. The song's last 24 seconds are purely instrumental with a beautiful, string-led melody that melts into an off-key, monotone note to finish. The note serves as a transition from the first song into the next 13 tracks.
One of the album's collaborations is with Doja Cat on track three, "motive." This song is about being unsure of what someone's intentions are with relationships. This is conveyed in lyrics such as, "Did you want a trophy, or you wanna sport me, baby?" and "What's your motive?" — a line that is echoed throughout the chorus. Doja Cat duets with Grande in the chorus and takes the lead on the third verse.
The fourth track, "just like magic," seems to be about Grande's success and accomplishments. In the pre-chorus, she sings, "Good karma, my aesthetic" and "Manifest
it." In the chorus, "I get everything I want 'cause I attract it." These lines sum up the message by expressing that she has found success and has accomplished so much because she has worked hard and manifested doing so. The song has a very upbeat tempo and melody. The inspiring lyrics make it a great addition to any motivating playlist.
The fifth track is titled "off the table" and is a duet with The Weeknd. The slow ballad begins with Grande wondering whether she will ever be ready to fall in love the same way she has in the past. The Weeknd responds in the second verse and chorus, reassuring her with, "I will wait for you whenever you need."
The seventh song, "safety net," featuring Ty Dolla $ign, has a similar story to "off the table" and "motive." This song emulates the feelings that come with taking a risk in a relationship. The lyrics convey the message that the person in question does not have any certainty or protection, but they think it could be worth it. Grande and Ty Dolla $ign's voices harmonize beautifully in the chorus, creating a very mellow melody, along with a few ad-libs from Ty Dolla $ign.
The 10th track, "love language," begins with a snappy hook, immediately enticing listeners. This tune has a strong drum beat, creating a nice swing, especially in the chorus. Grande sings about wanting her significant other to communicate in her love language.
Psychology Today defines love languages as "how we receive love from others." The five love languages are words of affirmation, acts of service, receiving gifts, quality time and physical touch. Grande wants her partner to understand what her love language is and to express it.
The album's title track, "positions," was also its lead single and was released on Oct. 23. It debuted on Billboard's Hot 100 and is No. 1 on the Billboard Global 200. This song is about having the willingness to be flexible and adapt to help relationships succeed. The lyrics, "I'm in the Olympics, way I'm jumping through hoops/Know my love infinite, nothin' I wouldn't do," show that Grande will put in extra effort to make the relationship work because it is worth it. This song is undeniably Grande. It has a catchy chorus melody that resonates with listeners after the song ends.
Grande ends her album with "pov." In this song, she sings about wanting to love herself as her significant other does. "I'd love to see me from your point of view," and "Learnin' to be grateful for myself," are just two examples that display this. Not only does "pov" have a strong chorus with Grande's iconic belts, but it also wraps up the album nicely. It sends the message that through everything, she is happy to have finally found love, and now, she just wants to love herself.
The other tracks on the album are "34+35," "six thirty," "my hair," "nasty," "west side" and "obvious."
Grande's album is a great collection of songs that explores many aspects of a relationship, including uncertainty over intentions, the fear of going all in and even love languages. The storyline throughout the songs, as well as the harmonies she has with herself in the choruses, show off the singer's impressive musicality and vocal ability. Grande has once again proven herself to be one of the top current artists in the music industry.