Ranking and reviewing HPU's dining options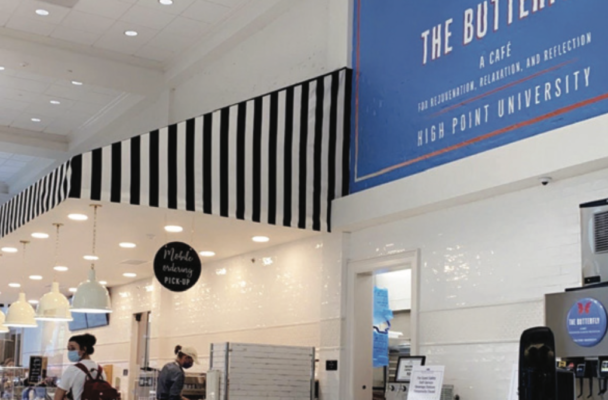 By Corinne Gumpman
Staff Writer
One of the luxuries of attending High Point University is the plethora of on-campus restaurants. The dining options seek to satisfy all students' tastes and schedules.
Overall, HPU dominates the campus dining game.
Here is how I rank HPU's dining options:
R.G. Wanek Center's Farmers Market
The Farmers Market is my top dining choice because the staff is friendly and inviting, and the taco and stir fry bars are healthy and delicious options. The Farmers Market also has the Vegan Corner, which accommodates those with dietary restrictions. Although I am not vegan, some of the meals in the Vegan Corner, such as the cauliflower wings, are extremely tasty.
The Butterfly Café
The Butterfly Café is a new addition to HPU. It is nice to meet friends there because it is an aesthetically pleasing place to take pictures or to enjoy your surroundings while having lunch. Similar to the Farmers Market, The Butterfly Café has many nutritious and filling options. The menu has variety, and you can indulge in a cinnamon roll, muffin or croissant if you please.
My favorite item on the menu is the Mediterranean Experience. It can be atop lettuce or on pita bread and includes a protein, toppings and a sauce. The Butterfly Café also has specialty drinks, such as chai lattes, matcha lattes and cold brews.
R.G. Wanek Center's 1924 Prime
This one may be shocking because 1924 Prime is typically most students' favorite dining option. In a survey I conducted on campus, 6 out of 17 people stated that 1924 Prime was their favorite dining option.
1924 Prime is an incredible experience and enforces proper dining etiquette. It is also a way to get together with friends and eat food that's different from the other dining locations' sometimes repetitive options.
Every month, 1924 Prime switches its menu to include different international cuisines. I appreciate HPU's desire to broaden our palettes to appreciate other cultural groups. However, I would say that 1924 Prime is slightly overrated.
The Silver Line Diner
The Diner has an excessive amount of breakfast, Tex-Mex and grilled options. I do not go there often because it is slightly inconvenient for a student who lives on campus without a car.
R.G. Wanek Center's Great Day Bakery
The Bakery has a menu filled with breakfast sandwiches, bagels, signature sandwiches, pizza bagels, soups and salads. I would compare the menu to that of Panera Bread. I like the Great Day Bakery because the food is nutritious and always tastes fresh.
Students tend to go here if they want a specialty salad or sandwich because they give you order customization options.
When I go to the Bakery, I like to order The Crispy Greek. This salad consists of butter and romaine lettuce with crispy garbanzo beans, grape tomatoes, feta cheese, kalamata olives, shaved onions and a Greek vinaigrette. This menu item is perfect because it is healthy and filling with the protein from the garbanzo beans and feta cheese.
R.G. Wanek Center's The Point
The environment of The Point is excellent, as it is right above the university's arcade and mimics a sports bar without alcoholic beverages. However, I am not a fan of the food at The Point, and the wait time for orders is sometimes long.
The John and Marsha Slane Student Center's The Café
The Café's meal options are repetitive and limited. The same options repeat each week. I only go to The Café if I want pasta, but it does have many different options for various flavor preferences. There is an omelet bar, pasta bar, macaroni and cheese, pizza, a salad bar and a section free of the seven common allergens. It also includes a safe place for students with dietary restrictions to eat without fear of cross-contamination. I rank this dining option No. 7 because the food is not exceptional, and quite honestly, I feel a little queasy every time I leave.
The only change I would suggest for campus' dining options is implementing more eco-friendly utensils and napkins. I do not think it would be too much of an investment for the university, and it would be a great place to start being more friendly towards the environment.
According to my survey, students want The Butterfly Café to have extended hours and weekend brunch. They also want more places to provide fresh vegetables. Students desire healthy food options because it is challenging to have a healthy diet in college.
HPU should strive to create more nutritious and diverse and less repetitive dining options, outside of the Farmers Market and the Slane Student Center's The Café.
Students also suggested that HPU should have a dining location with Italian food or a Taco Bell.