HPU works toward in-person spring semester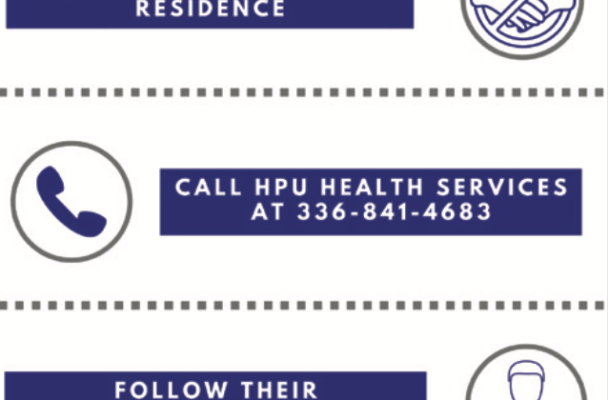 By Nicholas Bainbridge
News Editor
With the fall semester nearing its end, High Point University is preparing for its spring semester. While most students will be taking the fall final exams online, with some being allowed to stay on campus if they get approval from Student Life, HPU plans to resume in-person instruction on Jan. 11. 
The decision to continue holding classes on campus means that HPU will still have to take measures to control the spread of COVID-19 amongst its staff and students. 
Dr. Daniel Erb, HPU's senior vice president of Student Life, explained that while the first semester of in-person classes during a pandemic had difficulties, the university is confident in its ability to maintain a safe environment.
"The global pandemic presents the challenge of being entirely unprecedented and unpredictable," Erb said. "Thankfully, our Health and Safety Task Force was commissioned by President Qubein in the spring and began working diligently to transform our campus. We are immensely proud of our students, faculty and staff for following safety protocols this semester."
HPU implemented a series of health and safety protocols to limit the spread of COVID-19, including the regular sanitation of areas by the Clean Team and the mask-wearing and social-distancing requirements. These policies will remain in effect for the foreseeable future.
The full list of these protocols is avail- able online on the HPU Health Hub at highpoint.edu/coronavirus. The task force will continue to monitor the situation and make judgments about how to handle any further issues.
"Because this pandemic has constantly changed and remained fluid, we are continuing to monitor the situation daily and will make adjustments as needed," Erb said. "Those changes will be posted to the HPU Health Hub and communicated via HPU email."
The Clean Team will be conducting an intensive sanitation of campus during winter break to minimize the risk of contaminated surfaces spreading the disease.
Students are advised to consider their local health policies when they return home, as different states have varying standards and quarantine obligations.
Some require negative COVID-19 tests, which will be provided between Nov. 18 and 20 by the Student Health Services. For information on how to get a test, students can contact Student Health Services at studenthealth@highpoint.edu.
Students who cannot leave HPU, due to testing positive for COVID-19 or being within close contact of someone who has, will remain in quarantine until they are cleared of risk.
The return to campus will be staggered between Jan. 7 and Jan. 10, with different times planned for students living in the same residence halls.
"Physical distancing continues to be strongly recommended by the CDC as one of several ways to mitigate the spread of COVID-19, and it remains an important part of our safety protocols," Erb said. "Having students return in staggered phases allows them to practice physical distancing and avoid large crowds."
Students will need to continue to submit the daily health assessment, which can be found on the HPU Health Hub, to be cleared to take classes on campus.
Remote learning will still be taking place; however, it will be restricted to students who receive approval from the Office of Accessibility Resources and Services.
There is only so much the university can do to keep its doors open, as it requires the compliance of its students to lessen the threat of the disease.
"We have reminded students throughout this semester that their actions affect others," Erb said. "Our contact tracing efforts showed that the virus was not spreading in the classroom but in unaffiliated gatherings amongst students. We continue to remind students to avoid these large gatherings and crowds whenever possible to mitigate the spread of the virus."
Students are expected to be extra mindful of the health and safety policies after the break, as they will be coming from various locations.
There is still uncertainty about how HPU will continue to be impacted by COVID-19.
"We know that the pandemic is an unpredictable situation, but we are committed to preparing for all scenarios," Erb said. "We remain committed to the daily self-health assessment, enhanced cleaning and physical distancing measures throughout campus."
There will be further updates for students, should any of these plans change. The university will continue communicating frequently during the break, so students are encouraged to regularly check their HPU emails and the HPU Health Hub page.