HPU ranked 18th in lowest NC student loan default rank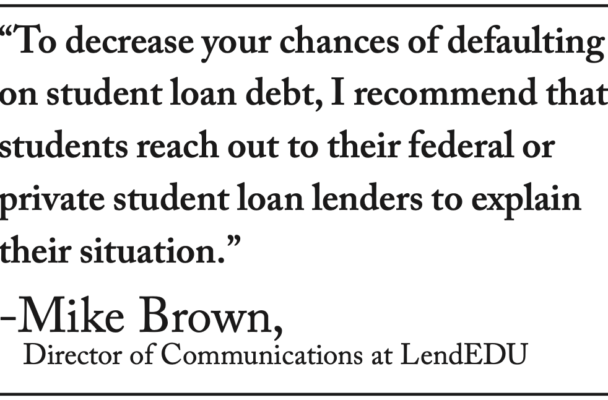 By Nicholas Bainbridge
News Editor
Attending a college like High Point University can be costly. According to highpoint.edu, the estimated price of tuition and fees for a full-time HPU student for the 2020-2021 academic year is $38,080. Prices vary by university, with public colleges having far cheaper per-year costs, but many rely on student loans to help cover the expenses of a college degree.
Some are unable to pay back their student loans. To track how common defaulting on student loans is, the U.S. Department of Education collects data from universities across the country and ranks institutions based on the proportion of how many students default on their loans. According to its findings, HPU has a relatively low student loan default rate at 4%. This means that out of the 4,398 institutions that were analyzed, HPU is ranked 922nd overall. It also has the 18th lowest default rate out of the 123 North Carolina schools that were examined.
This data is based on students who began repaying their debts during the 2017 fiscal year but defaulted by 2020. When compared to the previous year, which focused on students who started repaying in 2016 and defaulted by 2019, there are a few noted factors.
First, the national default rate declined from 10.10% in the previous year to 9.70%. However, default rates did not decline everywhere.
HPU's default rate is at 4%, which is a small increase from its previous 3.90%. Additionally, the university used to be ranked 15th out of North Carolina schools but is now 18th. While its state ranking worsened, HPU's national position improved from 925th to 922nd.
Mike Brown, director of Communications at LendEDU, an online marketplace for a variety of economic services such as student loans, writes stories about various financial trends and recently examined the issue of student loan default rates across the country.
Brown explained that one of the most important things to examine is the increase in default rates in for-profit schools.
"I think the most significant data trend is the abnormally high default rates at many for-profit institutions," Brown said. "These types of schools are always heavily scrutinized and fighting lawsuits. It's no surprise to see default rates so high at for-profit schools."
Defaulting on a loan can have severe consequences. It harms one's credit score which can inhibit access to credit cards and other loans. It may also lead to confrontation with debt collectors, additional fines and legal consequences if the loan goes unpaid long enough. Some colleges may withhold academic transcripts from students who do not repay their loans.
Additionally, universities with high rates of students defaulting on their loans may lose access to programs such as the Pell Grant Program, a federal grant provided to help colleges provide education to economically disadvantaged students. This can have detrimental effects on students who don't default on their loans.
"If a school loses access to federal funding programs like the Pell Grant Program, it can impact students because they will have less access to grants that don't need to be paid back," said Brown. "This will mean they will likely need to take out more student loans to finance their education. This can potentially impact schools because maybe fewer students will want to attend if they can't access grants."
HPU's low default rate indicates that it is not at substantial risk of being economically harmed by student loan complications.
"I think that HPU's default rate of 4% has a somewhat limited impact on the school and its students," Brown said. "Of course, you want to have a default rate of 0%, but that is extremely difficult to attain."
The direction that student loan default rates will go is contentious. The Brookings Institute, a social science think tank, hypothesized that 40% of borrowers will default on their debts by 2023. However, there are factors such as recent legislation that might cause this to change.
"I would expect to see a slight drop in default rates for next year's report because federal borrowers currently cannot default on federal student loans under the CARES Act," Brown said.
The CARES Act is a stimulus bill passed on March 27, 2020, to provide financial aid to people suffering financial consequences because of the COVID-19 pandemic. One of the components of this legislation is that repayment of various federal loans, including student loans, are temporarily paused. For now, the Department of Education has stopped sending billing statements, but they are set to resume by Dec. 31. Because of this, people are not defaulting on their federal student loans during 2020.
This only applies to federal loans, while loans from other stages of government and private sources have their own policies. Brown explained that there are steps students can take to avoid defaulting on their loans. He explains that honest communication can be a useful tool for avoiding unnecessary consequences.
"To decrease your chances of defaulting on student loan debt, I recommend that students reach out to their federal or private student loan lenders to explain their situation," Brown said. "The lender might agree to a reduced monthly minimum payment or place you in temporary forbearance until your financial situation has improved."
Additionally, searching for alternatives to student loans, such as grants that do not need to be repaid, may alleviate some of the financial burdens of paying for college.