Future teachers collect tech for young students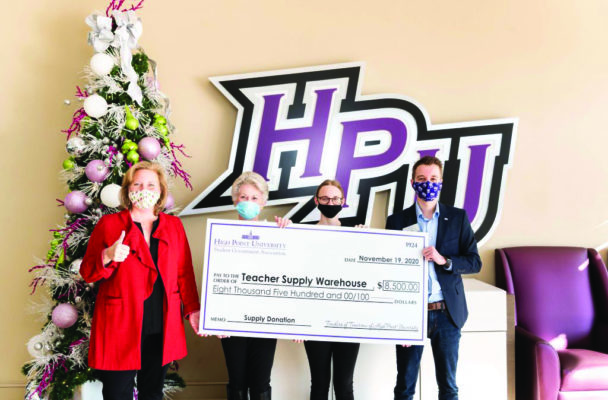 By Nicholas Bainbridge
News Editor
Technological devices are becoming increasingly incorporated into education, and the COVID-19 pandemic has only expanded their relevance to schools. With social distancing and some schools teaching online, computers and other electronics are being used to ensure students can still learn.
Purchasing such items can be costly for schools, however, which is why a group of High Point University students conducted a donation drive to gather the supplies for local schools. 
Teachers of Tomorrow is an HPU student organization made up of prospective instructors who work together to prepare themselves for a career in education and lend aid to local schools.
In the group's latest project, they teamed up with Guilford County Schools to obtain items, including laptops, iPads, microphones and other equipment. Items were collected at the Campus Concierge and Security in the R. G. Wanek Center from Jan. 14-21.
The drive was created by Heather Simmons, a senior and the president of Teachers of Tomorrow, and Avery Moon, an HPU AmeriCorps VISTA Representative. It was through their connections that they were able to collaborate with Guilford County Schools. 
Simmons explained that they have worked to help schools on several prior occasions. They recently made an $8,500 donation of classroom supplies to the Teacher Supply Warehouse, an establishment that provides resources to teachers in Guilford County, but this is the first time they have run a technology drive. 
"Technology was selected for this drive because it is in the highest demand at the moment," Simmons said. "Many students
are required or choose to partake in online classes for safety purposes but don't have the means to do so. This is also a good time to hold a technology drive because many people receive new devices during the holiday season and will be more willing to donate their old ones."
Simmons and her colleagues accepted items anywhere from mint to used condition, as they wanted to ensure that as many students as possible could learn online. 
"Our guidelines for donations were pretty open," Simmons said. "We obviously wanted functioning devices, and ones with cameras are desired, as many of our students are participating in a virtual class. As for devices that are worn, we accepted those, as some schools only need temporary solutions until they can secure state or federal funding to purchase new devices."
The drive also aligned with the group members' goals of becoming K-12 instructors because it gave them an opportunity to interact with local schools and help secure every students' access to an education, regardless of their economic status. 
"At the beginning of the pandemic, many schools were forced to go online for safety reasons, but a large population of their students were automatically excluded because they didn't have a device or access to technology," Simmon's said.
"This unexpected shift brought a much larger problem within our education system to light. In a 21st century society where much of the world revolves around technology, our students in Title I or low-income schools were being left behind. Our goal as educators is to make education accessible to everyone and give them the tools to succeed. Today, that means technology."
The Teachers of Tomorrow were appreciative of the support they had from HPU students, as they received 9 pairs of mics and headphones, 1 outlet extension and 3 laptops.
"We are so thankful to be a part of such an amazing collegiate community that cares about giving back to the new community they have found themselves in," Simmons said. "When giving back to a community that has become our home, we need to look to the pillars of society as they are often the ones holding it up. Teachers are one of these pillars that are often overlooked for all of the work they do within, and especially outside, the classroom."
The team will be working with Guilford County Schools to ensure that the students who need these the most will receive them. They plan to continue working to provide further aid to local schools in the future through similar efforts.