'Schitt's Creek' gains popularity after arriving to Netflix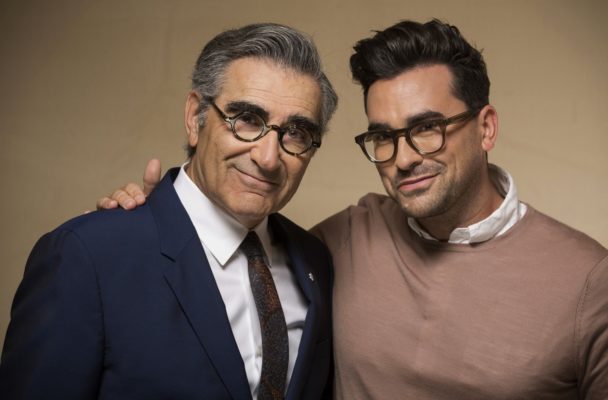 By Alyssa Pittari
Staff Writer
Despite concluding its run on Pop TV in April 2020, "Schitt's Creek" has been growing in popularity since its last episode aired, gaining recognition from viewers and celebrities. "Schitt's Creek" has quickly become a Netflix staple for many because of the pure joy it brings to viewers. 
The Canadian show was created by father-and-son duo Eugene and Dan Levy in 2015. Eugene Levy has been in the industry for years, having worked on movies including "American Pie" and "Best in Show."
 The series follows the rich and prominent Rose family after an embezzlement scandal involving their business manager forces them to relinquish all of their assets. The family moves to Schitt's Creek, and the small town that they once purchased as a joke becomes their only hope of surviving this tough time. 
Eugene and Dan Levy star as Johnny and David Rose. Catherine O'Hara and Annie Murphy star as Moira and Alexis Rose, respectively. Eugene Levy and O'Hara are comedy legends, especially in the
Canadian entertainment world, which, combined with the show's outstanding writing, creates a watching experience that makes viewers laugh out loud. 
While the show was never disliked, it took time before it gained a large following. This occurred after the first two seasons were added to Netflix in 2017. People began to appreciate the series, along with its talented cast and hilarious, yet touching, plot points. The exposure the series received on Netflix bolstered its fame. Although the show has concluded, it continues to grow in popularity with time. 
"Schitt's Creek" is enjoyed by many because it is a fun and amusing show to watch, especially when following the Rose family as they adjust to life and culture shock in the town of Schitt's Creek. Watching as the Rose family encounters the town's citizens, such as café worker Twyla, played by Eugene Levy's daughter, Sarah, make for some hilarious conversations between the characters. However, as the series progresses, viewers learn that the Roses love and care about not only each other but the town as well. 
The comedic plot points are not the only things that make the show memorable. The message carried throughout the series is considered its most important aspect. Through David Rose's character, "Schitt's Creek" demonstrates its support of the LGBTQ+ community. In the show, David identifies as pansexual and reveals this to viewers through a fitting analogy. 
"I do drink red wine, but I also drink white wine," Rose said. "And I've been known to sample the occasional rosé. And a couple summers back, I tried a merlot that used to be a chardonnay, which got a bit complicated…I like the wine and not the label." 
Rose uses this metaphor to explain his sexuality to his friend, Stevie.  His character has become an icon in the LGBTQ+ community, and Dan Levy said that he was not expecting his storylines to be inspiring for so many people. Critics have complemented Levy because of this subtle, yet empowering, message. 
"Schitt's Creek" was nominated for four Emmy Awards in 2019 but unfortunately did not take any home. In 2020, the series was nominated again and finally won. The accolades included Outstanding Comedy Series, Lead Actor in a Comedy Series for Eugene Levy, Lead Actress in a Comedy Series for Catherine O'Hara, Supporting Actor in a Comedy Series for Dan Levy and Supporting Actress in a Comedy Series for Annie Murphy.
The show also won four awards for Outstanding Writing, Casting, Directing and Costumes in a Comedy Series. This was a historic sweep for "Schitt's Creek" and proved that it is a show to be remembered. The show's creators also received recognition by being two of Entertainment Weekly's Entertainers of the Year. 
Although the series has ended, its large fan base and recent Emmy awards solidified its place in the television world. The show's presence on Netflix and the recent social media attention will attract new viewers for years to come.