Campus officials respond to student inquiries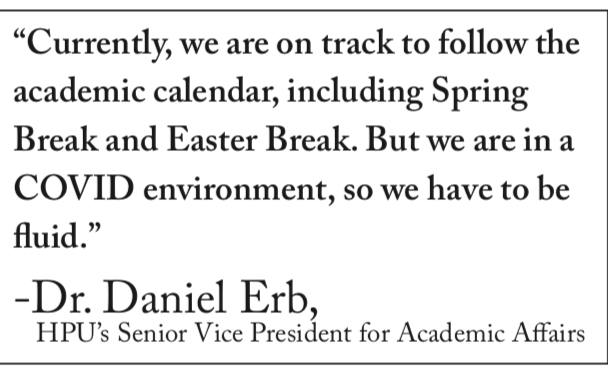 By Nicholas Bainbridge
News Editor
Members of the University Community Affairs Board, or UCAB, at High Point University met with the Student Government Association on Jan. 28 to answer questions from the student body.
Each of the faculty and staff representatives gave information on issues relevant to students and how the university would function in the future.
Erica Lewis, assistant vice president for Student Life, explained that the school has plans for a new program to facilitate socialization on campus.
"Campus Connector is a new program where undergraduate students who are invested in helping other students who don't feel as connected with campus can help out," Lewis said. "It is going through the final stages with [Student Government Association]. Students can self-identify to apply with SGA."
Lewis elaborated that HPU plans to implement an event where students can meet for coffee and get to know each other. There are plans to start testing the program next year. Additionally, Lewis explained that campus visitors are free to use the ice rink so long as they are registered.
There were also concerns raised at the meeting about the safety due to COVID-19 and the university's confidence in keeping the disease contained. Lewis sought to ease concerns by drawing attention to the sanitation efforts and social distancing policies.
"We are always worried about what might spread the virus, but we have been very intentional about what we do on campus to be safe for COVID," she said.
Dr. Daniel Erb, senior vice president for Academic Affairs, explained that HPU plans to continue its recently adopted safety trends in classes.
"We did decrease the number of sections of classes offered because of COVID," Erb said. "We do not plan on increasing the number of sections in the fall." He also explained the school's reason- ing for not having online classes like other universities.
"HPU is a residential university," Erb said. "We value the experiential learning opportunities that our students have. We did not offer online courses for that reason. We did receive overwhelming requests from our students and parents to have in-person classes. As a result, we are not set up for online classes."
Students that are temporarily quarantined still have options though.
"We are set up for remote access, but the experience is very different," Erb said.
However, Erb elaborated that there will be more online classes during the summer semester.
Students were interested in what plans the school had for when COVID-19 vaccines would be available and how involved HPU would be. The UCAB members explained that while getting a vaccine is highly recommended, it is not mandatory.
HPU's academic calendar remains tenuous in place; some concerned students questioned if breaks will be cancelled.
"Currently, we are on track to follow the academic calendar, including Spring Break and Easter Break," Erb said. "But we are in a COVID environment, so we have to be fluid. We would give students ample time, as we can't tell students the day before the break. We are closely monitoring the COVID situation locally and internationally."
Barry Kitley, vice president for Facility and Auxiliary Operations, spoke on dining issues and potential development of campus restaurants. The Butterfly Café's menu is not planned to be altered; however, students are encouraged to send suggestions of additions. There are also plans for a Mediterranean restaurant to be added to campus that will function similarly to 1924 Prime.
The Food Truck Meet-Ups on campus every Wednesday are planned to continue for the rest of the spring semester.
Lewis covered housing topics, including the plans to add at least three more university-owned houses as options for students next fall.
"Upperclassmen are eligible to home- stead next semester and can apply on Feb. 16," Lewis said. "There are some restrictions such as conduct, but as long as they pay their housing deposit, they can go to the housing portal."
Venture trips will also be continuing as scheduled, like the HPU ski trip. More information on these trips is on HPU Connect. UCAB will meet with SGA again on April 8 at 7 p.m. to answer more questions.