Female creatives on overcoming sexism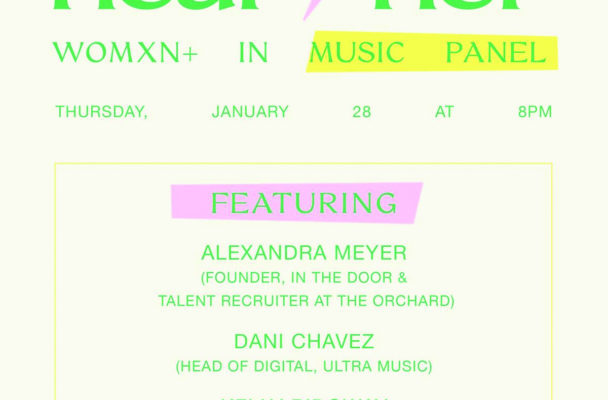 By Corinne Gumpman
Staff Writer
Womxn+ in Creativity is a series of events for womxn+ creatives to connect with each other and develop skills to enter and excel in the workforce. Womxn is a spelling that some feminists coined in an effort to be inclusive.
High Point University promoted this event. On Jan. 28, the Quadio Hear Her: Womxn+ in Music Panel took place on Zoom at 8 p.m. This event allowed people of similar interests to network with one another and grow.
The panel was composed of women in the music industry who have faced sexism throughout their careers and seek to use those experiences to help younger and less experienced musicians and music lovers get their feet in the door.
The panel featured Alexandra Meyer, Dani Chavez and Kelly Ridgway, all experienced professionals in the music industry.
Meyer is the founder of "In the Door," a company that helps people develop their job applications. She works as a mentor for musicians who are trying to make it in the industry. Meyer also works for The Orchard, a leading distributor and label services company. Its purpose is to empower artists and labels to connect with fans across the world.
"The Orchard has female-dominated leadership," Meyer said.
Meyer explained that this is noteworthy, considering the male dominance in the realm of music. Women make up only about 5% of the industry, being very underrepresented.
Chavez works at the label Ultra, a worldwide music entity. She is the head of digital music.
Ridgway voiced her encounter with sexism and realized the true impact of this discrimination of women through her interactions with younger women in music. Her experience as a consultant at WMA, Cult Records and Polydor Records helped her to mentor others effectively.
After the panel answered some general questions, the floor was open to more personal questions from audience members. In this Q&A, the panelists gave some advice to the audience about being successful in the music industry.
"People fall short when they are asked why they want a certain job and respond that they want to 'get their foot in the door,'" Meyer said.
She advised that interviewees write down what is important in their search for jobs prior to interviewing with music labels. She also encouraged the audience to be authentic and relatable when forming a resume to stand out.
Chavez's main point of advice was to maintain one's core values with the ever- changing roles of the music industry. She says that through it all, it was her passion to spread her love of music to others that persisted.
Lastly, Ridgway encouraged the audience to be open-minded and humble.
"Do not be afraid to be a big fish in a small pond," Ridgway said.
All of the panelists also encouraged the audience to alter their resumes when applying to different jobs, mention skills listed in the job description and add what they think will make them stand out from other applicants.
To wrap things up, the panelists said that to go from an amateur to a professional artist in the industry, people need to allow themselves to learn their strengths and weaknesses and embrace them.
They also emphasized the importance of authenticity, growth and speaking to the ideal audience.
The Hear Her series will continue in March with a week-long summit that will include a speaker series, skill-based and business-oriented workshops, discussion groups and live performances.
The faces behind Quadio can be reached @quadiomedia on Instagram, Facebook, Twitter and YouTube.