Religious involvement on campus still strong despite COVID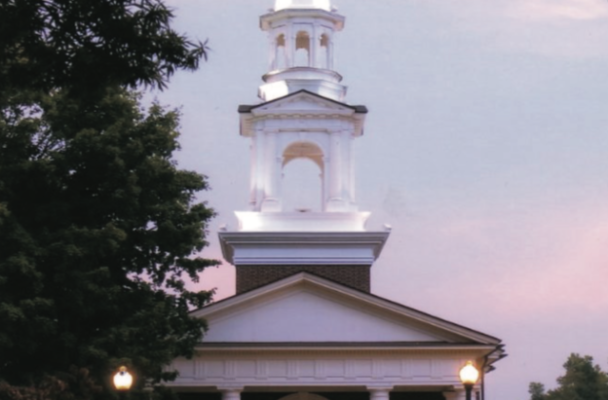 By Elise Colby
Organizations Editor
The Charles E. Hayworth Sr. Memorial Chapel provides an open, welcoming space to students of all religious backgrounds. The chapel offers a space for involvement in different religious communities and activities. It is a place to worship, meet new people and most importantly, a safe environment.
High Point University Minister Reverend Preston Davis discussed the many virtual and in-person involvement opportunities for students.
"The Friday night Shabbats and Hillel programming for Jewish students has been recognized nationally for how well it serves Jewish students," said Davis.
"This is due to its stellar executive committee and advisor Amy Epstein. Weekly Chapel is on Wednesday nights at 5:30 p.m. in Hay- worth Chapel or through virtual formats. Interfaith gatherings are through Inter- faith United. HPU Sunday gatherings are at 11 a.m. in Hayworth Chapel. Catholic Campus Ministries also hosts a weekly Mass at 6 p.m. on Sundays in Hayworth Chapel. There are also intimate gatherings like Communion at noon on Thursdays in the Hayworth Lounge."
Davis discussed how the programming of such events through various platforms could proceed despite COVID-19.
"We've transformed the method of delivering programming from Hayworth Chapel so that it can do what it has always done: help build the beloved community here on campus," said Davis.
"We already had a strong online presence through Instagram and Facebook. We doubled down on those platforms but also created in-person breakout groups for Wednesday night chapel service. This has allowed students to grow closer to one another than they might have when chapel services were a large gathering. It's a change that we want to keep going even after this pandemic."
Davis commented on how the engagement of various campus ministries has helped the community move through such a difficult time.
"I get excited about all campus ministry initiatives, whether from our office or from campus ministries," said Davis. "The pandemic has made everyone far more aware of the fragile nature of our lives. Campus ministries provide incredible comfort and challenge to rethink how to live more loving lives when the temptation to fall into bitterness and fear are real."
Davis is excited about the new, upcoming weekly chapel service series.
"It's a series on seeing science and faith not as enemies but long lost dance partners," said Davis. "I'll be interviewing Dr. Brad Barlow, [associate professor of astrophysics and director of the Culp Planetarium], and Dr. Veronica Segarra, [assistant professor and interim chair of biology], as well as helping us approach scripture in fresh ways. [It] starts Feb. 10."
Students are encouraged to attend any of the weekly or upcoming events with religious communities on campus.
"The chapel is a place of solace and inspiration," said Davis. "Come for one of the gatherings, or simply on your own, to find rest."
For more information about religious life on campus and available involvement opportunities, students can contact Davis at pdavis@high- point.edu or visit HPU's religious life at highpoint.edu/religiouslife.
Religious life is also on Facebook and Instagram (@hpuchapel).