Keeping up with the Leclercqs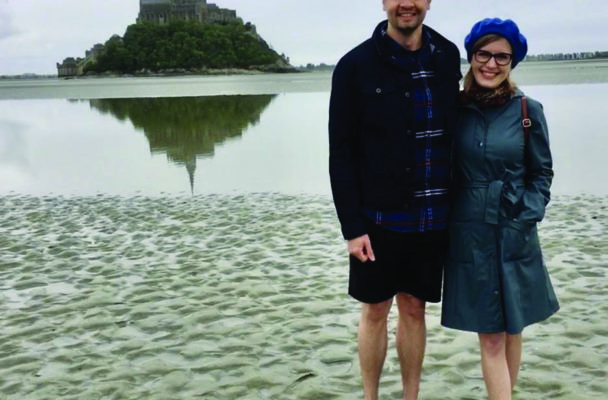 By Rebeka Ogren
Staff Writer
Here at High Point University, Valentine's Day is often looked at one of two ways: the ultimate "Galentine's" extravaganza or a heartfelt dinner at 1924 Prime with your significant other. 
For some of the professors on our campus, Valentine's Day is an everyday event. Meet Drs. Virginia and Benoît Leclercq, a power couple who both teach French and English courses at HPU. 
The Campus Chronicle interviewed them to highlight their love story.
When did you meet each other?
VL: We met 13 years ago in Wisconsin when we were both in graduate school. Dr. Leclercq tried to friend me on Facebook, and I denied it because I hadn't met him in person. We had mutual friends, and when we first met in person, it was at a bar. He and I had gotten there before anyone else. We talked for a while, and we did not like each other at all. A year later, we were in the same French Seminar, and we ran into each other at a different bar. We started talking again, and it went from there.
How long have you been married? What was your wedding like?
BL: It's going to be three years in June. Our wedding was in Seattle, Washington. It was very intimate because it holds a lot of importance to both of us for family reasons. Since I had family coming from France, we wanted to do it somewhere meaningful and fun to make the most of their trip.
VL: The wedding was in a hotel in downtown Seattle, and we made it bilingual for our guests, both French and English. Olive, our dog, was the ring bearer. After we were married, I was walking back down the aisle, and I felt something pulling my dress. I turned around, and it was Olive that was riding on my train.
How did you know that he/she was "the one"?
BL: I knew pretty fast. I think I knew because on top of her beauty, she was the one person who wasn't afraid to call me out when I wasn't acting right. I knew that someone who is willing to hang out with you and make you better, despite your shortcomings, would probably be the right person. That, and she's an excellent cook!
VL: I don't have a specific moment necessarily, but I knew early on that he had the biggest and the best heart of anyone I know. He cares as much about other people as I think I do. He always tries to do the best for other people, in addition to being smart, funny and handsome.
What is it like teaching the same subjects? Do you ever steal ideas from each other?
VL: We steal ideas from each other all the time. It's really wonderful being able to do that. We have an intellectual and a pedagogical community. It is helpful and fun to be able to collaborate, and we've even done that in the classroom a few times. Students seem to really love it when we do that. He definitely makes me a better teacher.
BL: I think of in terms of pure qualities she brings to the equation, she is extremely precise, focused and detail-oriented. Sometimes I tend to see too much of the big picture, and I'm not detail-oriented enough. It's just wonderful to be able to see it all come together.
How has working together helped your relationship?
BL: I think that in terms of the relationship, it's given me access to a part of her being and personality that I probably wouldn't have seen had we not worked together. Seeing the method and dedication she has to the subject and the students makes me in awe of what she does and especially how she does it.
VL: I would absolutely agree. I get to see so many sides of him that I wouldn't have access to normally. I get to see what a good teacher he is and the way he works with students. I get to learn from him. I think the other thing that's nice about it is that we're both so busy, and if we weren't in the same field doing the same thing, we wouldn't be able to spend as much time together as we do now.
What brought you to HPU to teach?
BL: When you work in academia, it's kind of like an NFL draft. There's a specific season where it is good to look for a job. We had this great opportunity to work here, and it is rare that you are able to work in an academic environment with your significant other. There were a lot of things that had to fall in place to get us here. When we had heard about it, we were in Idaho. It was a big move for us, but we visited campus and took the opportunity.
VL: I went to a small liberal arts college that was residential for two years. I was really excited to come back to that type of school. It's such a great community, and I was excited to do interdisciplinary work in English and French. We had a lot of exciting possibilities when we got here, which was great for us.
What's your favorite memory with each other, personal or work-related?
BL: For work-related, my favorite memory was to create the first French Maymester and take High Point students abroad in only our second year. Being able to introduce something to students that we both know so well and cherish was really great on so many levels, both for our university and for us to guide the kids in the program. When it comes to personal memories, my most treasured was our wedding day. I never thought I would actually get married. I was kind of anti-institution. When I saw her in her wedding dress, I was in disbelief that I was actually there.
VL: The Maymester was my favorite work memory as well. We have so many pictures and memories from it. It was also his birthday during the trip, so we have to celebrate with the students while at dinner one night. My favorite personal memory was when he proposed. We were at home, having a disagreement, and he left the room. He came back in with Olive in one arm and the ring in another. I was not expecting it at all.
What is your favorite Valentine's Day memory?
BL: On Valentine's Day in 2017, we were able to look back on past Valentine's Days and see that it's not so much the day itself but the construction of a relationship that it marks.
VL: We had a really great Valentine's Day. I don't remember what year it was, but it was in Madison, Wisconsin. We went out to this restaurant in town. It was brand new, and we had this great food and conversation. It wasn't our first Valentine's Day, but it was a really nice evening and indicative of things to come.
Is there anything you would like to add?
BL: I always have to look forward to things to come because I've already been given so much in this relationship. I just want to keep looking at all of the things we are going to be able to enjoy and do together. I think our relationship brought me something I wasn't expecting. My father passed away three years ago while I was here at HPU. She came to France with me, and I didn't know how she would react. She was wonderful with everyone, my mom, my nephews, and I just said to myself, "This person, she is just so great. She handled adversity in this sensitive and difficult situation." I felt lucky to have her by my side because I don't know anyone else who could have handled it in that way. It's funny because when I first brought her over to France, everyone pulled me aside and said, "Don't you dare let this one go," and I didn't!