Recognizing prominent women in STEM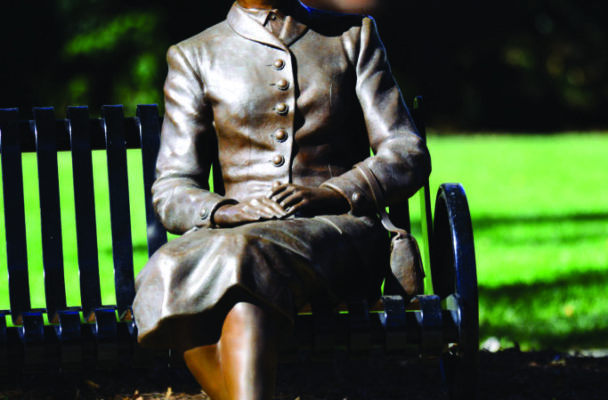 By Corinne Gumpman
Staff Writer
It is March, which means it is also Women's History Month. This month is set aside to commemorate and encourage the study, observance and celebration of the role of women in American history. In honor of this holiday, The Campus Chronicle is highlighting the contributions of women in STEM. 
These women have managed to stand out in male-dominated fields. They range from NASA space scientists to geneticists and are prominent in the world of science, technology, engineering and math.
Katherine Johnson was born on Aug. 26, 1918, in White Sulphur Springs, West Virginia, to parents Joylette and Joshua Coleman. From a young age, she had a passion for mathematics. 
"As a young girl, Katherine loved to count," says her biography on NASA. "She counted everything. She would count the number of steps she took to the road. She even counted the forks and plates when she washed the dishes." 
As Johnson aged, her love for mathematics also grew. After she graduated from college, she went on to work for NASA to make space exploration preparation possible. In 1962, Johnson identified pathways for spacecraft to orbit Earth and land on the moon, enabling John Glenn to enter orbit the same year.
Without her dedication and love for mathematics, NASA could not have made the leaps they made in sending a man to the moon, including simply figuring out how to orbit around Earth in a spacecraft. Johnson died on Feb. 24, 2020.
Another influential woman in STEM was Florence Nightingale, also known as "The Lady with the Lamp." She was born in Florence, Italy, on May 12, 1820, where she would become a philanthropist at a young age. As an English statistician, social reformer and founder of modern nursing, her impact was vast.
Nightingale held a nursing job in a hospital where she was challenged with a cholera outbreak and unsanitary conditions that proliferated the spread of disease. She also worked as a nurse for the sick and fallen soldiers in Crimea during the Crimean War. 
"Nightingale herself spent every waking minute caring for the soldiers," said her biography on History. "She carried a lamp while making her rounds to care for the soldiers, hence her name of 'The Lady with the Lamp.'" 
Later, she used her knowledge of statistics to create the "Nightingale Rose Diagram." This model displayed the correlation between sanitation and death rate, and it pushed for proper sanitation in the army and beyond. Throughout her life, she upheld her goal to improve hygiene practices and lower the death rate. While she died on Aug. 13, 1910, Nightingale's legacy lives on
Barbara McClintock was born on June 16, 1902, in Hartford, Connecticut. Throughout her life, she devoted her time to research. In 1983, McClintock was awarded the Nobel Prize in Physiology or Medicine for her discovery of mobile genetic elements. Specifically, she studied corn's hereditary characteristics. 
She studied how specific characteristics, such as color, are passed down through generations and linked to changes in the plants' chromosomes. She proved that genetic elements can sometimes change position on the chromosome, which causes nearby genes to become active or inactive. 
This discovery is fundamental to the modern understanding of genetics, evolutionary biology and related concepts in medicine. Without McClintock, we would not have as great of an understanding of heredity. She was an extremely devoted and intelligent individual who should be well remembered.
These three women, Johnson, Nightingale and McClintock, are a few of the most noteworthy female figures in the history of STEM. These women and their accomplishments serve as inspiration for prospective women in STEM.
High Point University's own female professors, Drs. Niky Hughes, Veronica A. Segarra, Kelli Sapp and many more, have also made notable contributions in STEM.
Hughes earned her B.S. in biology and education at Stetson University, M.S. in biology at Appalachian State University and Ph.D. in plant physiological ecology at Wake Forest University. She now works at HPU as an associate professor of biology. She is one the few individuals around the world that has researched the function of anthocyanins in autumn leaves. Her passion as a botanist and a professor is quite evident to all those who know her.
Segarra is also an associate professor of biology at HPU. She earned her B.S. in biochemistry at the University of Miami and Ph.D. in molecular biophysics and biochemistry from Yale University. On campus, she is also the interim chair of biology and does research investigating the membrane trafficking events that enable cells to adapt to conditions of stress and starvation. Additionally, Segarra has over 30 publications on the National Library of Medicine that exist to educate others on her findings through research.
Sapp, like Hughes and Segarra, works in the biology department at HPU. She received her B.S. in biology from Methodist College, M.S. in biology from Wake Forest University and Ph.D. in biology from the University of New Mexico. According to her students, her teaching greatly prepares undergraduate students for their post-graduate studies. She is known to be a helpful advisor and willing to help her students in any way.
These are just three of the many female professors around campus that have had a significant impact in their field of expertise. During this month of celebration, people of the HPU community can remember the women who have inspired them to be extraordinary.