Women's Basketball reflects on the season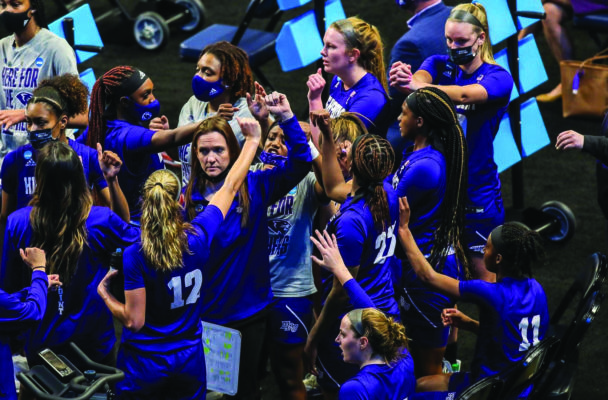 By Noah Stern
Sports Editor
The 2020-21 season was one to remember for the High Point University women's basketball team. They won the Big South Championship and made the NCAA tournament for the first time in team history. 
The Panthers set program records for field goal percentage (43.2%), three-point percentage (36.8%) and free throw percentage (75.4%). Their scoring average for the season was 72.7 points per game, second-best in HPU's program history. Their assists per game, 14.7, was third-best in team history. Led by Head Coach Chelsea Banbury, the Panthers were a force to be reckoned with all season long. 
Banbury, junior guard Skyler Curran and red-shirt sophomore guard Jenson Edwards spoke with the Campus Chronicle about their reactions to the season, participating in the NCAA Tournament, making HPU history and looking toward the future.
What are some overall thoughts and emotions that you have from the season?
JE: This season will always be one to remember. We made history by winning the regular season and conference championship and did something that no other team at High Point has ever done. The emotions were all over the place, especially after the end of the championship game, knowing that we were making history and going to the NCAA tournament.
SC: Our emotions were all over the place in those last couple weeks that we had. We won the conference tournament, and those were also the first couple games we could have fans. Everyone's adrenaline and emotions at the end of the championship game ran really high. It's fun to play with a crowd that is just as into the game as we are on the court.
CB: You're happy; you're close to tears, especially when that buzzer finally sounds. You look at all the fans, and it is just pure joy but also a lot of relief. You never know what's going to happen in a basketball game. You have to play it every time. I was so happy. I loved watching the girls celebrate what they had worked so hard for all season long. That's why we coach.
What did it feel like to play on ESPN for the whole country to watch, especially against UConn, one of the top national programs?
JE: We were so worked up about playing UConn, but when you get to that moment, at the end of the day, it's just another basketball game. We were really excited to be there, and the experience was awesome. We did a lot to get to where we were, and it was cool to be there with all these big teams. It was so fun to hear from other people: "We saw you on ESPN." That's cool. Not a lot of people can say that.
SC: It was pretty wild. We knew we were going to be on ESPN, but it hit me later once people started texting me and calling me saying, "I watched you on ESPN tonight!" It was crazy. Playing UConn was really cool. It's one of those things that you don't realize how big it is until it's all over.
CB: I didn't really think about playing on ESPN at all. The biggest thing was once we saw we were playing UConn, just that in itself is pretty cool. We get to play against the best, and we don't get that opportunity. Actually getting to play against the best, being on the court and seeing if what we do works and how we can compete at that level. Those girls [at UConn] are bigger, faster and stronger. That's just the type of athletes that are at that level. So, it was cool to see how we matchup and what we have to do to take this program to the next level. 
What was the game plan going against UConn?
JE: Nothing really changed as far as our game plan. For me, I had to guard Paige [Bueckers]. She made some tough shots, and I was running off a lot of ball screens. They pushed our offense out a little bit. It was definitely tough to get open looks, but nothing changed as far as our game plan, which allowed us to stay calm and not get too worked up over who we were playing.
SC: The way we prepared was the same way we did it all year. We knew we were playing UConn, but we did all the same stuff for them as we would for any other team in our conference. This helped keep us level-headed.
CB: It was hard because everyone understands they're a good team, but I don't think people understand how good their defense is. You have to work for everything you're going to get on the offensive end, but they also have the player of the year on their team. Our game plan was that she is going to have to work for everything she gets. We understand that we can't take everything away. Offensively, we were going to play our game and run our offense, and it worked. We were going to be us and just bust their tails and see what happens.
What is the goal for next season, and how will you cope with the losses of seniors Chyna McMichel and Miya Bull?
JE: I think the goal is the same thing. We are hoping to make the tournament again. Maybe we can get better seeding and pick up more of those conference wins that I think we could've gotten. Chyna and Miya play a big role on this team, and them leaving will hurt, but we're getting some good players coming in and hoping that they can fill those holes. Luckily, we're a young team, and we're not losing a lot of players, so it's looking good for next year.
SC: Our goal is the same, which is to win. We ended up accomplishing it this year, and that will be our goal next year and the years following that.
CB: From the coaching standpoint, my goal is that we get better and build on what we did this year. We were a good team, but I think we can be a better team. If we get better this summer and during the preseason, the end goal will take care of itself. I want to be more efficient on offense. I want to have a better defense. I want to see what we can clean up and what we can do better for next year. You can't get comfortable with where you are because people will catch up with you.
Is there anything else you would like to add?
CB: One of the biggest accomplishments is that we did all of this during a COVID-19 year and were able to get through the season without any interruptions. The girls took seriously what they had to do off the court to stay healthy. That was a big part of our success. We didn't have to take a two-week break like a lot of teams did. 
SC: Go Panthers!