Women's Volleyball finishes season undefeated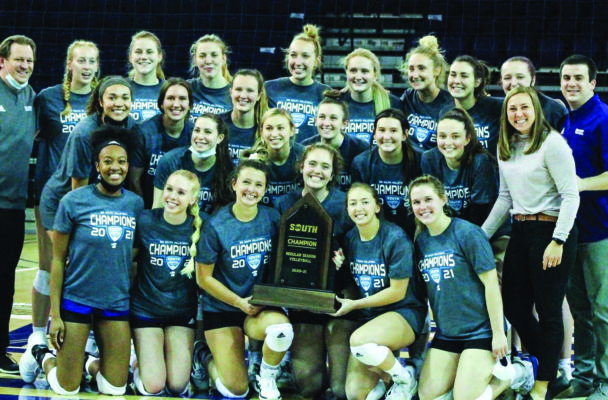 By Noah Stern 
Sports Editor
The High Point University women's volleyball team had a season to remember this year. In 16 games, the Panthers went undefeated for the first time in program history, only losing seven sets all season long. Abby Bottomley, Annie Sullivan, Kaley Rammelsberg, Madison Smith and Gabrielle Idlebird made the all-conference first or second teams in the Big South Conference.
Bottomley, Sullivan, Rammelsberg and Smith got four of the seven spots on the all-conference first team. Maria Miggins and Mackenzi Thornburg earned honorable mention selections. Senior leader Bottomley took home the Big South Player of the Year. Head Coach Ryan Meek was also awarded the Big South Coach of the Year. 
Coming into this season, there was a lot of hope around this team, but there were some barriers that needed to be overcome to achieve the season they had.
"We had to keep getting better from the fall because we're not used to a spring season," Bottomley said. "We needed to keep improving every day from the fall, instead of plateauing and declining when the spring season hit."
That was one of the biggest challenges this season. The Panthers usually play their season in the fall, but that didn't happen because of COVID-19 restrictions. It's difficult to ask players to play their best when it's not typically their time to play. The Panthers had to wait over a year to play competitive volleyball. They also had to deal with COVID-19 regulations during the season. Volleyball was a sport in the Big South Conference that required masks to be worn during matches.
"That's the thing I'm most proud of with them," Meek said. "This has been a year unlike any other. The fans see that we're wearing masks, but that's just the start. Their social lives are limited; there's so much going on off the court that they're not allowed to participate in. They've sacrificed so much to put themselves in a position to win a championship. To go 16-0 is a crazy accomplishment, but to do it in this year where there's so much distraction has been pretty phenomenal."
How were the Panthers able to go 16-0 this season? It required hard work, consistency and outstanding seasons from so many of their top players. Although there is a lot of dedication and preparation for each match, Meek has had a simple message for his players all season. 
"Focus every day on being the best you can be that day," Meek said. "This team has done a great job of taking it one step at a time and not getting ahead of themselves."
The Panthers took his message to heart all year. They started training in the fall with a lot of restrictions but were able to continue to improve every day. The growth and development of their young players was something that Bottomley saw coming out of last season.
"Pretty much everyone who plays now was a freshman or sophomore last year," she said. "It was rough at times, but having the fall to work on things gave us a lot more time to figure out how to play together. Everyone had so much potential from the start that they hadn't tapped into yet, but in the past year and a half to two years, they finally grew into the players they can be which has really helped us this year."
Going undefeated this season put HPU at the top of the Big South Conference standings, giving the Panthers an automatic berth to the NCAA tournament since a conference tournament won't be played this year. They're matched up against the University of Central Florida, a team that went 16-1 this season and has the American Athletic Conference's Player of the Year, McKenna Melville.
"I think it's pretty easy to get excited to play new teams that are out of our conference and are bigger names, but I think that will help us stay level-headed and play the way we've been playing all season long," said Smith, one of HPU's all-conference members.
It's been quite a season for the Panthers, beginning in the fall when they started training in increments until now at 16-0. Meek, Bottomley, Smith and the rest of the Panthers are playing some of their best volleyball and are looking to continue their dominance and momentum into their first-round matchup against UCF. The match is on April 14 at 3:30 p.m. in Omaha, Nebraska.