Island Cuisine: The only Filipino restaurant in the Triad area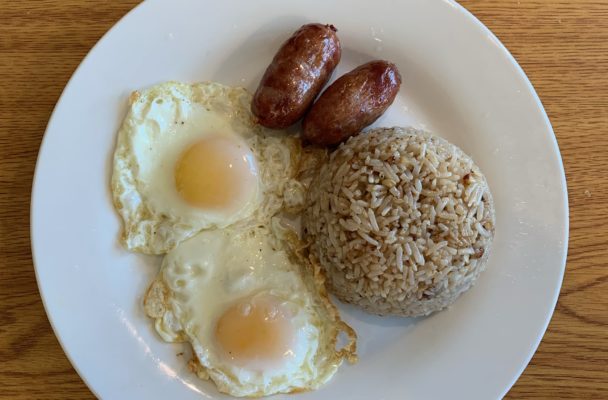 By Ally Ortolani
Opinion Editor
If I could have Filipino food for the rest of my life, I would.
Growing up with a Filipina mother meant rice with every meal, accompanied by a traditional Filipino dish.
Since my mother was a stay-at-home mom for most of my adolescence, I was able to experience ethnic Filipino dishes every day. I am grateful that I got to experience a culture like no other.  
Some of my favorite dishes include dinuguan, chicken adobo, pancit, kare-kare and more. Dinuguan is pork's blood — very tasty pork's blood.
Balut is an undeveloped duck egg — another one of my personal favorites. It was even featured on the infamous "Fear Factor."
Living in High Point for the past four years meant being away from some of my favorite food that my mother would cook for me. However, this year — with a quick Google search — I was amazed to find Island Cuisine, an authentic Filipino restaurant located in Clemmons, North Carolina.
It is the only Filipino restaurant in the Triad area. Of course, I was overjoyed at the chance to have some of my favorite dishes from my childhood.
Oh, how it lived up to the expectations. The service and hospitality were amazing. One thing that I love about Filipino culture is how hospitable and welcoming Filipinos are.
Some items off Island Cuisine's menu include lumpia rolls, lechon kawali, sigsig, pork longganisa and much more. They're all reasonably priced — another plus.
For those who aren't familiar, allow me to explain. Lumpia rolls are like spring rolls. Lechon is deep-fried pork belly chunks. They're my favorite. Sigsig is cubed pork served on a sizzling plate with a raw egg. Pork longganisa is one of my favorite Filipino breakfast dishes.
Upon my first visit with my boyfriend, I was instantly greeted by the warm, friendly staff, all of whom were Filipino. We sat down, chatted with a server about their Filipino upbringing and even shared our favorite meals.
We ordered kare-kare, shrimp tempura and pork longganisa. Everything was cooked perfectly and felt just like home to me.
The only thing I wish was different was that there was no tripe added to the kare-kare. Tripe takes roughly eight hours or more to make, which was probably why Island Cuisine's version did not have it. Nevertheless, I would still give it a 10 out of 10.
It's the peanut butter in the kare-kare sauce that made the dish for me. Absolutely amazing.
My boyfriend had the pork longganisa, which contains chopped pork marinated in soy sauce, garlic pepper and a little sugar. The dish included garlic fried rice with eggs. He was satisfied with the food just as much as I was.
Before leaving, the owner invited us back on Easter Sunday since we were not going home to New Jersey. Of course, we went, and the owner made us a whole spread, free of charge.
Island Cuisine's hospitality completely beats "Southern hospitality." How could I deny free, authentic Filipino food?
Since I wasn't with my family on Easter, a huge holiday for Filipinos, I was able to get the next best thing by eating Filipino food. I felt even more immersed with my Filipino heritage knowing that I had a piece of "home" with me while at Island Cuisine.
I think it's extremely important to maintain and preserve one's heritage. Since I am Italian and Filipino, I try to incorporate both cultures into my everyday life. Last week, I made garlic fried rice with tocino, another Filipino "sweet" meat, for dinner.
I didn't just go to Island Cuisine for the food. I eat Filipino food because it keeps my heritage alive, and I know that it's important to my mother, who immigrated to the United States at 9 years old and left much of her family and culture behind.
Showing my mother how I try to maintain my Filipino heritage every day makes her happy, and I will continue to do so.
My boyfriend and I have another invitation to go back to Island Cuisine for dinner — free of charge again.  We will make another visit because I have to get my kare-kare fix somehow.
My only wish was that I came to this place sooner, especially with the extremely welcoming service and amazing food. Be sure to check out Island Cuisine at 6246 Towncenter Drive in Clemmons next time you're in the area.
For more information about the restaurant, their menu items or to order online, visit www.islandcuisineclemmons.com.