Theater students host three-night production of 'Godspell'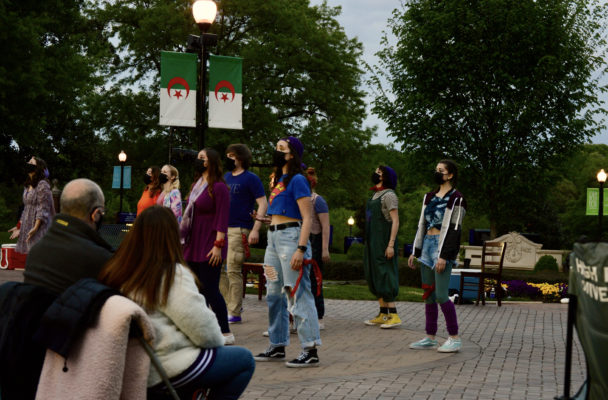 By Emma Ralls
A&E Editor
COVID-19 has paused many theaters and productions, but the High Point University Department of Theater and Dance is not one of them. The department and its students recently worked diligently, on- and off-stage, to deliver a COVID-19-friendly theater experience. 
From April 15-17, the department presented a production of "Godspell" outside of the Charles E. and Pauline Hayworth Fine Arts Center on the Kester International Promenade. It was the second time the university hosted this production, the first during the 2015 Homecoming Weekend. 
"Godspell" is about "a small group of people who help Jesus Christ tell different parables by using a wide variety of games, storytelling techniques and hefty doses of comic timing," read the 2021 performance schedule's description. "An eclectic blend of songs, ranging in style from pop to vaudeville, is employed as the story of Jesus' life dances across the stage. Dissolving hauntingly into the Last Supper and the Crucifixion, Jesus' messages of kindness, tolerance and love come vibrantly to life."
This production was the department's second attempt to host "Godspell." It was supposed to be performed during the spring semester of 2020, but the pandemic halted production. 
Director Ken Elston commented that "unique" was the perfect word to describe this show. Elston is also the director of performing arts and interim dean of arts and sciences at HPU. 
"It seemed appropriate that [the department] still address last year's production," Elston said. "We hit a dead end with a certain approach, and given some of the global happenings, we were thinking, 'How do we tie some of those images into the play?' As we talked about what we were going to do with a COVID-related season where things could go in different directions, one of the things that we decided was that we really had to readdress 'Godspell.' We needed some closure on it. That's what that show is about: How does a community build, and where are the things that tie us together?"
Special precautions were taken to make sure the rehearsals followed COVID-19 safety protocols. 
Each actor was given their own box of props, as well as a spray sanitizer and wipes with little bags. This "kit" meant they could practice, and props could be exchanged safely when needed. 
Actors and the crew rehearsed outside, which, according to Elston, brought on some of its own challenges.
"It was challenging because we had to be masked and distanced, and sometimes it rained," Elston said. "Until we were all miked, just hearing each other and your cue line if you are 400 yards away can be a little challenging. We really developed some very good habits of listening and being generous with each other."
Many people took advantage of attending the production in-person or tuning in to a live stream. 60 people were allowed to come in-person each night. 
Each of the three nights, almost all the provided seats were occupied, and other people brought their own. On the Friday night performance, more than 300 people tuned in to watch the performance.
The performers of "Godspell" delivered a beautiful show that was a groundbreaking production during such a trying time for the art. 
It was a performance that HPU won't soon forget.