Students compete for funds to fuel their businesses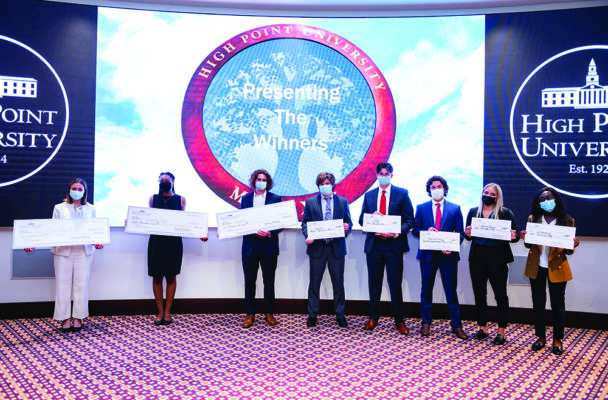 By Nicholas Bainbridge
News Editor
This year's 11th Annual Business Plan Competition at High Point University gave aspiring entrepreneurs an opportunity to earn funding for their future companies. 
The goal of the annual competition is to promote student creativity and business innovation so students can become CEOs of successful businesses. 
After submitting their business plans on March 3, finalists convened in the Calicutt Auditorium on April 14 at 5 p.m. to make their final presentations. The eight finalists had their own inventive proposals to show. 
Each of the students received a check of varying value to help fund their businesses, with the first-place winner receiving $10,000. 
Finalists
Junior Cameron Labrecque made a digital scrapbooking application that allows people to pass down memories of those they hold dear. 
Freshman Thomas O'Hara, the creator of Construction Printing Solutions, developed a system to implement 3D printing to improve the efficiency of construction projects. 
Lightning House, a mobile application created by junior Maddie Drobny, uses a survey system to find and connect potential college roommates to alleviate the challenges of finding out who to room with each year. 
Ivana Korankyi is an HPU sophomore and CEO of Leopard Electric. Her business implements portable charging stations for electronics meant to replace inconvenient wires and power cords. 
Senior Kyle Wiseman's Swarm Messaging is an app that encrypts metadata while texting others to hide personal information from network providers and others who would pry into private communications. 
Senior Vincent Scavo was awarded third place in the competition for his creation, The Ultimate Outdoor ChairTM. His design emphasizes function, focusing on durability, comfort and being able to accommodate tall people while they lounge outdoors. 
Sophomore Faith Griffin created The Shaving Step, a step stool designed to make shaving a safe and simple task. The portable stepping stool is designed to help achieve the right angle to shave one's legs safely. It also adds stability, lessening the risk of falling or getting cut. She received second place in the competition for her problem- solving product. 
The first-place winner, Erin Morrow is a freshman and an education major focused on educating young people about technology as part of her company, Finger Flyers. It is a business that sells small drone kits to teach children about flight and the technology surrounding it. She explained her business in more detail in an interview with the Chronicle after winning the competition. 
"Finger Flyer Educational STEM Kits pair our patented, handheld quadcopter drones with guided educational lab activities," Morrow said. "These lab activities cater to all different learning types and explore important aspects of science, technology, engineering and math as students assemble their drones. Each drone STEM kit provides a step-by-step assembly guide, explains the flight principles and underlying physics and describes the drone technology that makes it all possible." 
Morrow explained that she came up with the idea while tutoring students, believing it would demonstrate engineering principles in a fun and engaging way. 
"Winning the Annual Business Plan Competition was an amazing and unforgettable experience," Morrow said. "The opportunity to present our progress since the Elevator Pitch Competition in the fall was very rewarding. It felt amazing to show off what we did with the funding and explain the impact High Point University has had on Finger Flyer's progress." 
Morrow expressed gratitude for those that supported her, including Assistant Professor of Practice of Entrepreneurship Kathryn Elliott. 
"I would like to personally thank Professor Elliott," Morrow said. "She has provided me with endless support, encouragement and resources. She believes in the product and my ability to present which means the world to me. She is an amazing advocate, and I cannot wait to continue working with her." 
Morrow seeks to use the money from her prize to increase production of her drone kits, make the product cheaper for both herself and consumers and develop additional labs to teach topics like entrepreneurship. Morrow also plans to bring Finger Flyers to more schools and homes across the country as schools begin to reopen. She is looking to present her work at trade shows to spread the news of her product. 
Further information on the Business Plan Competition and how to apply to next year's competition can be found at www.highpoint.edu/business/business-plan-competition.