Updates on Nido and Mariana Qubein Arena, Conference Center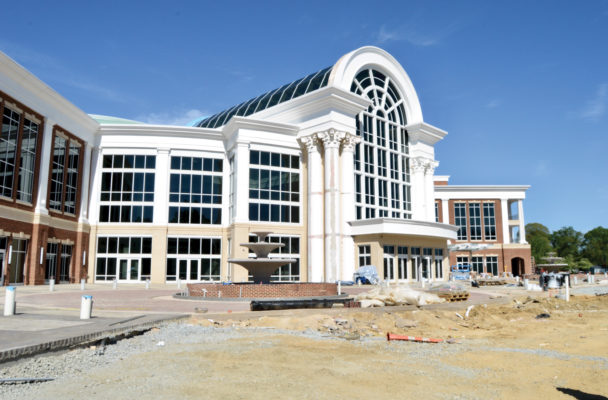 By Emma Ralls
A&E Editor
The new arena on High Point University's campus is a project that has been in the works since 2014. Jason Sweet, HPU's director of construction and renovation, and his team have spent the last seven years working hard to make this stadium a state-of-the-art basketball facility, and it's nearly complete.
"Right now, we're probably about four months out," Sweet said. "We're doing a lot of the internal finishes, like putting flooring down, painting, tweaking some stuff and that sort of thing. We're starting to see a little bit of light at the end of the tunnel."
The Nido and Mariana Qubein Arena, Conference Center and Jana and Ken Kahn Hotel is approximately 300,000 square feet, making it the largest building on campus. The Conference Center will have 2,500 seats, and the Kahn Hotel will accommodate up to 60 guests. The Conference Center will function as space to host graduate and undergraduate programs, student organizations and community groups. The hotel will aid students majoring in hospitality and event planning. Students, visiting families, alumni and more will be able to stay in the hotel. It will also feature Alo, a restaurant inspired by Mediterranean cuisine, that will operate similar to 1924 Prime. It will require reservations, a dress code and proper etiquette practices. 
The arena will seat 4,500 people and play home to unique features. Some of the most notable features will include iconic HPU purple seats, the second-largest collegiate Jumbotron video wall in the state and a wooden ceiling. Sweet is most excited about the ceiling and thinks it gives the stadium a Madison Square Garden feel.
Another feature that will make the stadium stand out, according to Sweet, is the 3D projection system.
"[It] will actually be able to project down on the floor and show different things," Sweet said. "You've probably seen a lot of hockey games and basketball games where it may appear that the floor is breaking in or breaking apart. We have the ability to do that, and that's pretty unique."
Portions of the stadium's operations, coaches and player facilities are almost finished. Sweet said that places like the coach's area, the practice gym, the locker rooms and others are the first parts of the building nearing completion. 
"For the most part, the locker rooms are pretty close to being finished," Sweet said. "We've got to do some signage, apply some graphics and do an overall punch list of the space. We were able to start putting furniture in those spaces. We're waiting on a few places where we've got to finish up some flooring, come back and do the punch lists, touch up painting and we'll be about good to go in those spaces."
Fans can look forward to utilizing two club rooms, exclusively for students, to watch games and socialize during halftime. These clubs are private and have their own concessions stands, two interactive TVs and plenty of indoor seating with high-top and low-top tables.
According to Sweet, the stadium will feature eight concession stands with menus prepared by Harvest Table Culinary Group.
"We've got three [concession stands] up on the suite level, and we've got five on the Main Concourse," Sweet said. "I believe it's in the works to get a lot of local vendors here from the High Point area to maybe come in there. I know we do have typical things like hot dog rollers and nacho chip warmers in those spaces."
When asked what the most time-consuming part of the arena has been, Sweet elaborated that it has been a mix between finding furniture for the space, electrical work and plumbing.
"There's a lot of furniture in this building," Sweet said. "Just getting and placing the right ones throughout the building, the coordination of the different size pieces, that's definitely been a good challenge. The electrical and plumbing as well. That's some pretty deep stuff right there, but [they're necessities] that a lot of people just don't ever hear about. In order to get incorporated, it does take a lot of time to do that."
Students should be excited not only about the arena's progress but about all the things to come with its completion in the coming months. Campus Concierge offers hard-hat tours for those who are interested in stepping behind the scenes and seeing all that goes into the complex that will become a center of social and athletic life on campus.