SGA hosts final Community Affairs meeting of the semester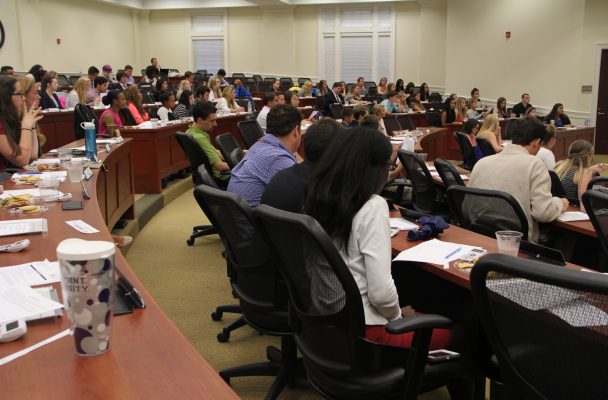 By Eric Wallace// Staff Writer
The SGA assembled for its final Community Affairs Board meeting of the semester where students received the chance to ask school officials questions or raise concerns.
The Phillips Hall forum involved a field of questions focused on the upcoming changes, both future and proposed, to the honors program.
"We are in the process of transforming to the new honors curriculum in the fall," said Dr. William Carpenter, director of the honors program. "We'll be offering honors classes that will tailor to the students specific interests."
Some of the changes being looked at for the program includes the structuring of honors projects that would allow students to work on specific projects of interest to them. This would allow them to group together subjects from different classes that they can turn into a collaborative work. The idea of hybrid classes or subjects being merged is also being discussed.
The new curriculum will feature a senior capstone entitled "Life, Work, and the Liberal Arts" which will serve as a final conclusion to all the work that the honors students have done. Students will reflect on how a liberal arts degree has prepared them for the real world and for graduate school or a job.
One concern that was brought up at the meeting is how the honors program will be effected with honors housing being moved to Finch Hall. Some students were concerned that the reputation of the dorm, which has traditionally been an all-male's dorm, may adversely impact the program's rising reputation.
"We want a centralized and well-situated dorm for our students," Carpenter said. "Finch Hall is both literally and symbolically at the heart of campus."
Renovations for the building will begin in early summer. Current plans include adding project/seminar rooms where students can collaborate on projects as well as rehearse speeches and presentations. Carpenter's office as well as a faculty-in-residence's offices will be installed.
"We are confident that the students will build a community there," Carpenter said. "We're very excited about this."
Another issue that was addressed at the Community Affairs Board meeting was the lack of advertising space available to campus organizations. The idea of a bulletin board in trolly stops and in other campus hotspots that would give clubs an easier chance to advertise was mentioned. University officials are looking at the idea of an app that would allow students to build a club profile and share it with other students.
Other concerns that students had included trolly's not following their schedule or skipping stops altogether, dumpster doors being able to swing open, more recycling initiatives at the dining halls, implementing green energy programs, the cleanliness of the silverware at Farmer's Market, changing the study abroad program to include a full year, coffee dispensers in academic buildings and adding additional colored printers on campus.
The meeting concluded by senators voting on students who had been nominated for honors awards within their respective classes. The end of the meeting also officially kicked off the election campaign for SGA President, Secretary and various class officer roles.
Senators Isla McGlauflin and Craig Simpson are running for Secretary, while former Vice President Alex Archuleta, Chief of Staff Michael Dreher and Sophomore Class Rep. GR Dulac are running for SGA President. Voting closes on March 22 at 11:59 p.m. through Blackboard.