Garrett and others supsended after TNF brawl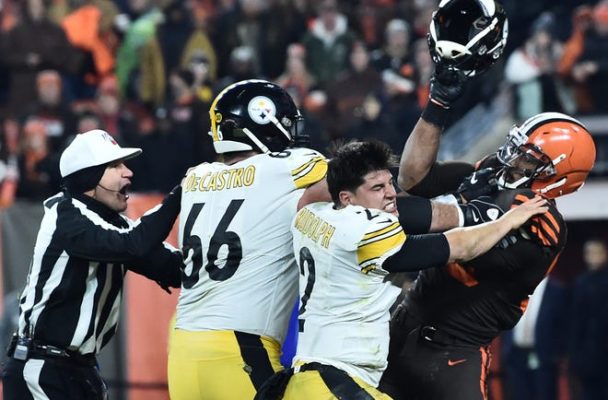 By Alex Bozek
Sports Editor
The most recent Thursday Night Football matchup took a turn from football and instead quickly evolved into a violent brawl between the Pittsburgh Steelers and the Cleveland Browns. The Browns won the game 21-7, but lost their star defensive end Myles Garrett.
With 12 seconds left in the game, the Browns were up 21-7 over the Steelers amaking that their fourth win for the books. On a 3rd & 29 play, Steelers quarterback Mason Rudolph dropped back for a pass when Garrett came barreling around the edge of the offensive line. He got to Rudolph quickly and tackled him to the ground. The hit seemed to be late, which would be a 15-yard penalty against Garrett. The NFL is trying to crack down on these kind of hits to protect their quarterbacks, but the late hit was not what caught the sports world's attention.
Rudolph got the pass off clean, but when he was slammed to the ground by Garrett, the two got into a little scuffle. This is typical in football of course, and did not look like anything serious. For Garrett, it apparently meant more.. It is unknown if Rudolph said something or to prompt Garrett's next action. When the two got up together they started shoving at each other. Garrett took off Rudolph's helmet and hit him over the head with it. This started a team-wide fight between multiple Steelers and Browns players, with flags being thrown left and right. It was not a pretty scene.
There have been multiple suspensions given out by the NFL as a result. Myles Garrett has been suspended indefinitely. Browns defensive tackler Larry Ogunjobi is suspended for a single game for shoving Rudolph, and Steelers offensive lineman Maurkice Pouncey is suspended for three games for kicking and punching Garrett. Both teams will be charged a $250,000 fine as well.
This indefinite suspension for Garrett means he will be out for the rest of the season and playoffs assuming the Browns even get there. He is guaranteed to miss the six remaining games for this year's schedule – possibly the longest suspension in NFL history.