Billie Eilish swept the Grammys winning five out of six nominations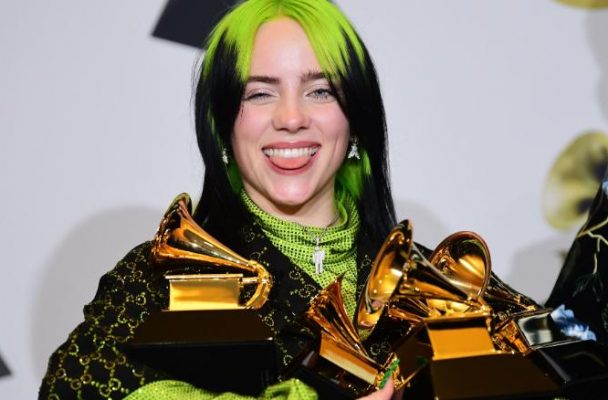 By Emma Ralls
A & E Editor
It doesn't look like the party is going to be over any time soon for Billie Eilish. who won big at the Jan. 26 Grammys. After winning four of the night's biggest awards and five out of the six awards she was nominated for, there is no denying the star-power she possesses.
Eilish was awarded record of the year and song of the year for her track"BadGuy," which peaked at No.1 on the Billboard Hot 100 charts the week of Aug.24.
According to CNBC.com, after her win at the Grammys, the sales of "Bad Guy" shot up 80%. The article also stated that the Monday after the Grammys the song received 6.19 million clicks, while it only garnished 3.44 million on the Sunday before the Grammys.
In her acceptance speech for the song, Eilish was more than humble. "So many other songs deserve this," Ellish said. "I'm sorry. Thank you so much. This is my first Grammy. I never thought this would ever happen in my whole life. I genuinely want to say I'm so grateful and and that I'm so honored to be here amongst all of you. I love you to my core."
She was also awarded Album of the Year and Pop Vocal Album for her debut studio album "When We All Fall Asleep, Where Do We Go?" The album contains 14 songs and has a run time of 42 minutes and 55 seconds.
The album features some heavy hitters, including among the notable "Bad Guy," which has more than 1.174 billion streams on Spotify, "Bury a Friend" with over 589 million streams on Spotify and "When The Party's Over" with over 759 million streams on Spotify.
The 18 year old became the youngest ever solo performer to win album of the year, beating Taylor Swift's win when she was 20 years old. The teen's win of Album of the year was a shock to some, beating out the likes of some major A-listers like Lana Del Rey, Ariana Grande, Lil Nas X and Lizzo.
Eilish, while honored, made her feelings known during her acceptance speech that she believed another artist deserved the album of the year award more.
"Shh, please sit down," she said after being handed the award on stage. "Can I just say that I think Ariana deserves this? "Thank U, Next" got me through some stuff. More than anything in the world I love you so much."
Grande waved her off with a smile calling "Take your moment, girl!"
Eilish also took home the award for Best New Artist which she lovingly dedicated to her fans. "Mainly I think the fans deserve everything," she said during her acceptance speech."I feel like they have not been talked about enough tonight." She also recognized her fellow nominees, expressing love and admiration to them all.
To say it was a record-breaking night for Eilish would be an understatement. She became the first woman, and second person ever, to win record of the year, album of the year, song of the year and best new artist in the same year. The only other artist to do this was Christopher Cross at the 1981 Grammys.
It wasn't only a night of awards for the young artist. She gave what Insider calls "a stunning performance" of her song "When The Party's" over during the awards show after only accepting one award, unaware she was going to be winning another four.
Eilish has come a long way since releasing her first single on Soundcloud in 2016. Since then, she has made 18 music videos, released 29 singles, an EP, a studio album, and appears on seven other songs.
She has amassed 52.9 million followers on Instagram and recently modeled for the cover of Vogue's March edition. Eilish has big plans and doesn't seem like she's going to stop wowing audiences any time soon.