The intriguing new sci-fi horror thriller 'The Invisible Man'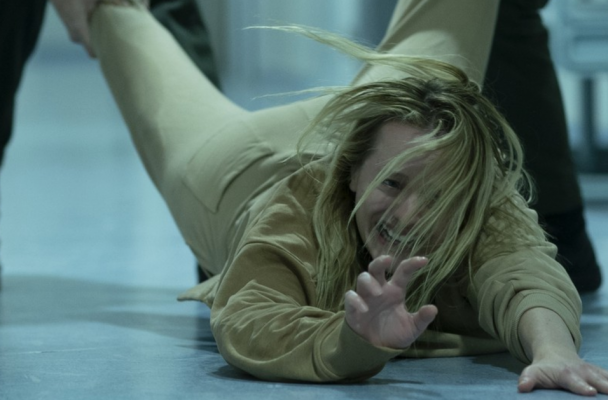 By Emma Ralls
A & E Editor
Coming to theaters Feb. 28, "The Invisible Man" is a science fiction horror movie written and directed by Leigh Whannell. This movie will be a modern take on H.G. Wells' novel and the 1933 film adaptation that share the same name.
The movie follows Cecilia, (Elizabeth Moss) who believes that her abusive ex, Adrian Griffin, (Oliver Jackson-Cohen), faked his own suicide. As a series of coincidences turn lethal, Cecilia's sanity slowly starts to deteriorate as she tries to prove that she is being hunted by someone nobody can see.
With her loved ones in jeopardy, such as her sister, their childhood friend and his teenage daughter (Harriet Dyer, Aldis Hodge, and Storm Reid respectively), will she be able to prove she is being hunted by an invisible man?
Filming for the movie began last July and took three months, but plans for an "Invisible man" film have been in the works as early as 2007. It was supposed to be connected to Universal's shared cinematic universe of monsters, but after the poor job Universal's "The Mummy" did in the box office and the bad reviews it received from critics, "The Invisible Man" was put on the back burner.
The original concept was to follow the invisible man's point of view instead of the new protagonist, Cecilia, but Whannell wanted a fresh take. In- stead, he wanted to make the invisible man the antagonist and give him more of an evil role. In an interview with Collider Whannel said that the invisible man was like the Aquaman of the dark universe, before the new movie came out.
He felt that the character was the butt of jokes and wasn't as appreciated as other characters in his universe. This fresh spin is supposed to give him a cool, spooky vibe that will creep out audiences.
Moss said in the same interview with Collider that she was influenced by films like "The Others" and "Prisoners" to get her into the headspace of a woman descending into madness. Moss stars in Hulu's "Handmaid's Tale," which she believed helped her while playing the role of Cecilia.
In an interview with Cinemablend, she said, "I've had quite a bit of experience playing characters who are dealing with various types of abuse. Whether it's emotional, physical or sexual, it's something that I've dived into quite a bit. So I was able to bring that knowledge to the role."
Cohen has taken the role as the villain in stride, and he is excited to get to play such a beloved character with a new twist. He has also talked about how he thinks the new direction the movie went in is something perfect for people to watch in this day in age.
"I think where Leigh is very smart is that our film is not potions and magic," said Cohen. "It's a very probable story that is quite timely as well. So I think approaching it — and specifically with this abusive relationship and how it isn't necessarily a physically abusive one, it's an emotional one — I think that's something that speaks to so many people, because we've all been there or we've witnessed friends that are going through it.
When someone says something to you and you kind of rationalize in a way – It's about that. It's about this woman getting out of this relationship that is toxic and then trying to deal with the aftermath of that."
In November 2019, while production was underway, it was announced that a spinoff off of "The Invisible Man" movie called "The Invisible Woman" was in development. It would be directed, produced/ and starred in by Elizabeth Bankswill. Erin Cressida Wilson will write the script, and Max Handelman and Alison Small will serve as producers. If the movies will be connected or not is yet to be seen.