Here's why everyone can't stop talking about the Super Bowl halftime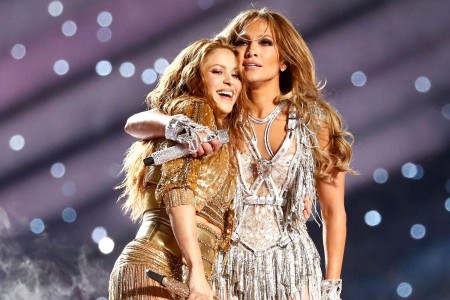 By Emma Ralls
A & E Editor
The Super Bowl is the most watched televised event in the United States, with millions of people tuning in each year. In some cases, it's not the game or the commercials that attract viewers.
The Super Bowl halftime show is an honored tradition that many Americans love. Some tune in exclusively for the show and don't even stick around for the game or the commercials. For some artists, it is their dream to perform in that coveted spot.
Artists like Bruno Mars, Beyoncé, Maroon 5, Lady Gaga, Madonna and Michael Jackson have performed their hearts out and gave viewers amazing shows to talk about for the rest of the year until that next Super Bowl.
Super Bowl 2020 took place in Miami on Feb. 2. The Kansas City Chiefs faced off against the San Francisco 49ers. Even before the teams that were playing became common knowledge, it was revealed on Sept. 26 that the halftime show performance was going to be done by two Latina icons, Shakira and Jennifer Lopez. J. Balvin, Bad Bunny, a children's choir, and Lopez's daughter, Emme Maribel Muñiz, joined the singers on stage as well.
Many news sources, such as NPR, have deemed Super Bowl LIV halftime show the most talked about 15 minutes in recent TV history. The two owned the stage with eclectic dance numbers and jaw dropping vocals and so much more, creating a half time that won't be forgotten any time soon.
Both artist played a large number of hits, including "She Wolf," "Hips Don't Lie,""Jenny From The Block," "On The Floor," and more. There were choreographed numbers, crowd surfing, pole dancing and so many other moments that had viewers in the stadium and at home captivated.
The two ended their set with a duet of "Wakka Wakka" and "Aguanile." Afterwards, the two stood together smiling high up on a platform in matching gold and silver outfits to the roar of the audience's applause.
This was a major moment in entertainment history for the Latino community. According to NBCNews.com, over 25 million Latino-Americans consider themselves NFL fans. Besides the star power of the two ladies hitting the stage, there was some subtle messages throughout the performance to promote Hispanic pride.
Shakira honored her Columbian roots with the traditional Afro-Colombian dance mapalé, as well as honoring her father's Lebanese descent with a zaghrouta, which is a tongue-flicking cry to express joy in Arabic culture.
Lopez emerged on stage wearing a Puerto Rican-American flag, joining her daughter who was singing "Born in the USA" by Bruce Springsteen. Her daughter and many other children seemed to emerge from metal cages, drawing reference to the disputes that have been going on at the Mexican border.
This wasn't the only thing causing social media to erupt after the halftime show. Viewers and critics instantly began debating if the performance was objectifying or empowering to women.
The main thing up for debate was that many couldn't decide how they feel about the outfits Lopez and Shakira were wearing and the dances they were doing. The two women wore skin tight silver and gold outfits covered with sparkles and tassels, which some were calling too provocative.
One Twitter user with the online han- dle of @AUBeard said, "The @SuperBowl halftime show was just a bad strip show. We have had so much positive discussion about not treating women like sexual objects, then they go and do this. You can't cry that women need to be treated better then support this display of sexual objectifying."
Other people were astounded by their outfits and on-stage presence. Past Super Bowl performer Lady Gaga tweeted out in support for the two singers, saying "@JLo and @Shakira and all the special guests were so incredible!!! What a fun halftime show. I danced and smiled the whole time. Such powerful sexy women!!!! On camera and off !!!!! Love you beautiful, sexy talented women."
At the end of the day, there is no way to please everyone. Hanna Yasharoff at USA Today put it really well, writing "JLo and Shakira sitting on barstools in turtlenecks play- ing acoustic guitars wouldn't make for a good show, because that's not the kind of performance fans expect from them.
Both women have made careers out of being confident, bold and unapologetic." And she's right. These two ladies gave it their all and gave a performance that sparked conversation. Every performer's job is to make people feel strong emotions when watching them, and JLo And Shakira did just that.