A tribute to Chadwick Boseman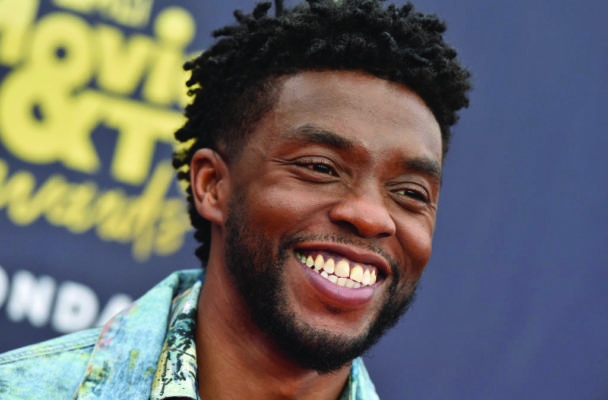 By Emma Ralls
A&E Editor
Chadwick Aaron Boseman is a name that will live on in cinema history. On and off the screen, Boseman was an unforgettable human being whose impact will remain in the Hollywood industry for years to come. 
Boseman was born on Nov. 29, 1976. He graduated from Howard University in 2000, where he met his teacher and future mentor Phylicia Rashad. Rashad raised funds, with help from her friend, notable actor Denzel Washington, to send Boseman and some of his classmates to the Oxford Midsummer Program of the British American Drama Academy in London.
In 2002, he won an AUDELCO award for his role as E.J. in "Urban Transitions: Loose Blossoms." The same year, Boseman appeared on the famous soap opera, "All My Children," but he was fired after voicing concerns about the script's racial stereotypes. Michael B. Jordan became his replacement, but there were no hard feelings between the two.
Years later, in a joint interview with The Wrap, Boseman was asked about coming forward with his concerns and subsequently being fired. 
"I remember going home and thinking, 'Do I say something to them about this? Do I just do it?'," Boseman said. "And I couldn't just do it. I had to voice my opinions and put my stamp on it. And the good thing about it was, it changed it a little bit for [Jordan]. They said, 'You are too much trouble,' but they took my suggestions or some of them. And for me, honestly, that's what this is about."
Boseman's early work included a sprinkling of episodes in multiple television series, namely Law & Order, CSI: NY and ER. He also gained a regular role on the television series Lincoln Heights in 2008, the same year Boseman appeared in his first feature film, The Express: The Ernie Davis Story.
During this time, he also worked as the drama instructor in the Schomburg Junior Scholars Program, housed at the Schomburg Center for Research in Black Culture in Harlem, New York. He taught until he moved to Los Angeles to further pursue his acting career.
In 2013, Boseman truly got his first taste of stardom. Starring Jackie Robinson in the biopic "42," Boseman co-starred alongside Harrison Ford, and the movie grossed $97.5 million at the box office. After the movie's release, his career seemed to take off, and in 2014, he was named "Male Star of Tomorrow" by the National Association of Theater Owners. He also starred in "Draft Day," alongside Kevin Costner and Jennifer Garner.
Boseman also played the iconic James Brown in "Get on Up" in 2014. 
Boseman described his role in an interview with Moviefone.com as "a huge challenge" but also "a very intense and rewarding experience." 
Two years later, he appeared in his next movie "Gods of Egypt" as the god of wisdom, Thoth.
His career-defining moment also occurred in 2016, when Boseman joined the Marvel cinematic universe as T'Challa, the king of the African country of Wakanda and a powerful warrior known as the Black Panther. His first appearance in Captain America: Civil War was the first of many in Marvel movies, before starring in his character's own film, notably titled "Black Panther." In 2016, while filming "Black Panther," Boseman was diagnosed with stage-three colon cancer.
The disease progressively worsened and was ultimately the cause of the star's death. Boseman never spoke of his illness publicly. He continued to work during treatment and completed production for several different films.
On Aug. 28, Boseman passed away in his home. His family issued a public statement, addressing Boseman's death. 
"A true fighter, Chadwick persevered through it all, and brought you many of the films you have come to love so much," said the statement. "From 'Marshall to Da 5 Bloods,' August Wilson's 'Ma Rainey's Black Bottom' and several more, all were filmed during and between countless surgeries and chemotherapy. It was the honor of his career to bring King T'Challa to life in 'Black Panther.' He died in his home, with his wife and family by his side."
Boseman was an inspiration to many and performed numerous groundbreaking roles that continue to live in the hearts of many, young and old. One moment many consider a true testament to the actor's character was at the 2018 Movie and TV Awards. Boseman won the Best Hero award, yet he opted to give it to James Shaw Jr., a man who stopped the Nashville Waffle House shooter the same year.
"Receiving an award for playing a superhero is amazing, but it's even greater to acknowledge the heroes that we have in real life," Boseman said in his acceptance speech. "So, I just want to acknowledge somebody that's here today, James Shaw Jr. If you don't know James Shaw Jr., he fought off a gunman in Antioch, Tennessee, at a Waffle House, saving lives. So, this is going to live at your house. God bless you."
Whether it was for his legendary superhero stunts as T'Challa, any other fantastic role or for the impeccable human he was, Boseman created a legacy none will soon forget and those around the world can hope to emulate.