The man behind the sensational Uncle Cheesecake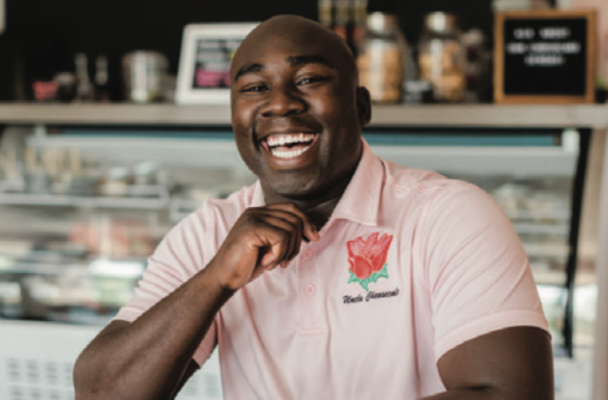 By Faith Foushee
Digital Media Editor
Uncle Cheesecake is a bakery located in High Point, North Carolina, that serves Carolina-style cheesecake in an assortment of flavors, as well as cookies, cupcakes and other delicious desserts. Owner Daniel Monkonjay is originally from Liberia and is part of the Bassa Tribe. He spent eight years in the Marine Corps and has always been passionate about cooking.
"I've always liked to cook," Monkonjay said. "I was always in the kitchen growing up. It started as a hobby. I am more Chef Monkonjay than I am Uncle Cheesecake."
In 2014, Monkonjay was upset that there were not any quality places to get cheesecake. As a chef, and with cheesecake being his favorite dessert, he decided to make his own.
"I had no intention of selling it at first," Monkonjay said. "I just wanted to have cheesecake for myself. Everyone started to see the things I was posting, and friends started eating it. Uncle Cheesecake was kind of brought from there."
The name "Uncle Cheesecake" originated from a cookout he had in the Marine Corps. Everyone gathered for the event with the goal to brainstorm and decide on a name for his cheesecake business.
"We spent over an hour coming up with names that were just awful," said Monkonjay. "My buddy had a daughter, and he would always tell her to go to Uncle Cheesecake. In the midst of this brain-storming session, he needed something from me. So, he told his daughter to go to Uncle Cheesecake."
At that moment, everyone lit up and knew that Uncle Cheesecake was the perfect name for the business.
Monkonjay is also a private chef. He owns Uncle Food Group which currently consists of Uncle Cheesecake, Babycakes and his private chef business. His goal is to continue developing and feeding everybody in every way.
Monkonjay was also previously on the Food Network cooking television game show series, Chopped. The episode entitled "Fire It Up" was a first-responders episode, pitting four firefighters against each other.
"In 2016, a buddy of mine saw a Facebook post," Monkonjay said. "It started off as a joke, and then I filled out an application. They called me back, and I did about three rounds of cooking and interviews. They invited me to come out for the show, and it was really fun. I ended up getting runner-up on the show."
Monkonjay is also very involved in Guilford County. He has served as a firefighter for the city of Greensboro and is involved with the High Point Police Department. He will also be dancing in two upcoming performances, including the Greensboro Ballet's "The Nutcracker" and Dancing with the High Point Stars.
"I have never done ballet before, so that is going to be interesting," Monkonjay said. "I have never done ballroom dancing either. Two times a week I am going to ballet practice. Then, I have ballroom practice. I'm all over the place."
Food events are not occurring for now due to COVID-19 restrictions. Hopefully, those will return soon.
Uncle Cheesecake's flavors change throughout the week, and the best way to keep up with the daily flavors and specials is to follow their Facebook or Instagram page, @unclecheesecake. Throughout the holiday season, customers can expect themed flavors such as peppermint mocha. The most popular flavor is the strawberry shortcake cheesecake. In addition to over 10 daily flavors available, the bakery also carries an assortment of cupcakes, bread pudding, cookies and more.
The most recent addition to the menu is hot chocolate bombs. The bombs have a chocolate shell with a surprise inside, like marshmallows. When put in hot milk, the chocolate melts into delicious hot chocolate. The bombs currently come in two flavors, including original and Oreo, but Monkonjay hopes to expand the options soon.
I have tasted the coffee chocolate chip and pumpkin cheesecake flavors. Both were creamy and delicious, and I savored every bite. I look forward to visiting again and trying flavors like caramel macchiato and Ferrero Rocher. While I am not a fan of peanut butter, the presentation of the Reese's cheesecake made me want to try it. I also am looking forward to trying one of their hot chocolate bombs.
While Oreo is Monkonjay's favorite cheesecake flavor, he encourages everyone to "come out and see [them]" to decide for themselves.
Uncle Cheesecake is located at 3800 Tinsley Drive, Suite 111 in High Point. Check out their Facebook and Instagram accounts, both @unclecheesecake, to keep up with updates, flavors and maybe even to drool a little at their photos.