Campus growth plan brings a new library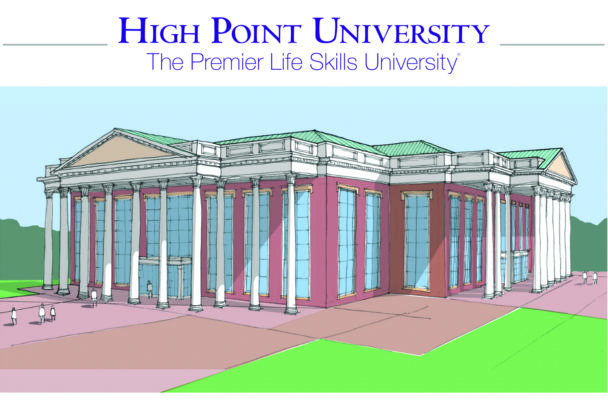 By Alyssa Pittari
Staff Writer
High Point University is continuing to grow and transform its campus for future students to enjoy. The most recent announced addition is an $80 million, four-story library that will house 160,000 square feet of textbooks, digital databases, private study spaces and more. The construction plans were announced on Feb. 16 on the university's website and social media accounts. 
According to HPU's press release, the facility will "feature the Library of Congress Classification System and become the main library on campus, supplemented by several existing satellite libraries across campus."
In an article for University Business, HPU President Dr. Nido Qubein commented on the new construction plans. 
"We have been saying for a number of years that we needed a state-of-the-art library and a library that meets all the needs of today's student," Qubein said. "We're not looking at a library that is strictly for housing a bunch of books. We're looking at a library that would be all-encompassing for learning. That means accessing knowledge in hardcover and through the phenomenally vast capacity of the internet. It has to be resourceful and expedient. And it's a place where you have to allow students to have environments for study."
The library will feature about 120 glass-faced quiet study rooms to offer more study space than the existing Smith Library. Similar to the Cottrell Hall study rooms, students will be able to reserve these spaces on their own or with two or three people to work on collaborative projects. The library will also have some conference rooms for groups to meet, a few classrooms and a 40-seat movie theater that can also serve as a meeting space. The building will be over three times the size of Smith Library. 
"It will be modern and architecturally elegant," Qubein said. "It'll be a pretty sophisticated building."
The building will also house a new Admissions Center. After being greeted by admissions staff at Slane Student Center, prospective students will tour the campus that will finish on the first floor of the new library. From there, students go to breakout rooms to converse with university staff members. The building will welcome thousands of prospective students and their families who visit HPU's campus throughout the year for tours, admissions events and scholarship interviews. The admissions offices are planned to be on the fourth floor of the building. 
"The library will be an all-encompassing center for learning, dialogue and research," Qubein said. "It has to appeal to freshmen and to doctoral candidates."
The new facility will also have an art gallery featuring historical artifacts and displays of HPU's expanding collection of artwork provided by the generous donors to the school. 
The new building is part of HPU's $1 billion, 10-year growth plan that was announced in September 2019. The plan states that the school will spend $300 million on new academic programs and buildings, including the new library and admissions center, an academic building and a Division I ice hockey facility. The plan also includes new academic programs, such as the School of Nursing. Lastly, the new additions will include a Town and Gown Think Tank, which will consist of local leaders that are committed to ensuring that the relationship between the city of High Point and HPU will continue to thrive as they work together. 
The plan also includes a commitment from Qubein to carry out his leadership at HPU for the next 10 years. Since the start of his HPU presidency in 2005, Qubein has played a large role in growing the campus and enriching its programs. His vision for HPU's campus has helped triple the undergraduate enrollment. Qubein has also allowed for the campus to grow to 500 acres. 
The new library will play a large part in promoting the other aspects of this 10-year plan by providing students a place to cultivate their academic success. It is expected to be completed in 2024, HPU's 100th anniversary year.