Commencement updates for classes of 2020 and 2021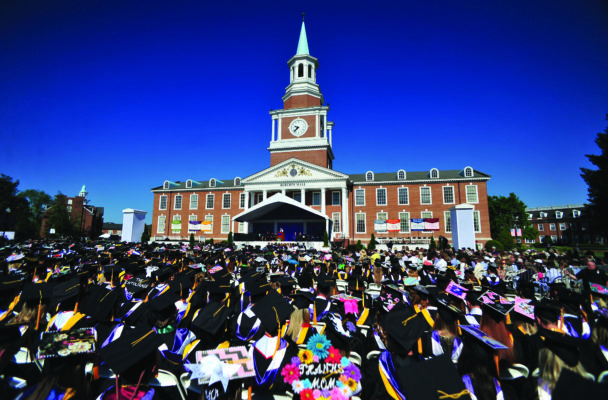 By Nicholas Bainbridge
News Editor
Graduating students from the High Point University classes of 2020 and 2021 will be having a shared commencement weekend in May. After the pandemic interrupted the previous school year and pushed people into quarantine, students from the class of 2020 were prevented from experiencing their graduation ceremony. To make up for this, HPU is holding a two-day commencement ceremony.
Doctorate and master's degree candidates for the classes of 2020 and 2021, and bachelor's degree candidates for the class of 2020, will graduate on May 7 at 10 a.m. Bachelor's degree candidates for the class of 2021, as well as bachelor degree candidates for December 2020, will graduate on May 8 at 10 a.m. 
"The enhanced plan of celebrating commencement over two days allows us to safely have an in-person celebration to recognize both the class of 2020 and 2021's achievements, where each graduate can invite up to six guests," said Melissa Anderson, the assistant vice president of University Events.
Safety and health concerns are being taken seriously at the university to keep the event as safe as possible to avoid another cancellation. One safety measure is separating the commencement into two days to keep it manageable, but there are others.
"We continue to actively plan the Commencement Ceremony with a spectrum of safety considerations in mind so that we comply with local, state and federal health regulations at the time of these events," Anderson said. "The graduation experience will now take place along HPU's Innovation Corridor, a location with more square footage than Roberts Hall Lawn, which would have limited each graduate to invite only two guests. Physical distancing measures will be implemented at our Commencement Ceremony, and face coverings will be required." 
This doesn't mean that the ceremony won't be exciting.
"All the traditional pomp and circumstance of an HPU graduation will remain," Anderson said. "There will still be a beautiful stage for graduates to walk across as their names are announced, photos taken to capture the moment, an inspirational commencement address, celebratory commencement décor and music. Clark the bald eagle will still soar over the graduates."
Currently, it is HPU policy to quarantine students infected with COVID-19, as well as those who have had contact with them. This raises the question of what will happen if one of the graduating students is quarantined or otherwise prevented from attending the ceremony. 
Plans are still being developed, but Anderson explained that HPU will ensure that all graduating students will be recognized in the ceremony.
"Unfortunately, event planning around the world had essentially been put on hold during this pandemic," Anderson said. "HPU is committed to honoring the 2020 and 2021 graduating classes with an in-person ceremony that balances safety and a joyous, celebratory experience."
NASA astronaut Dr. Mae Jemison is set to be the commencement speaker. After previously being slated to be the speaker in the 2020 graduation, she will finally get to inspire the graduating students.
Jemison was selected for her achievements in engineering and science, such as being the first woman of color in space and leading the 100 Year Starship initiative, which seeks to enable interstellar travel.
"Dr. Jemison's pioneering spirit and outstanding accomplishments in science and space exploration have inspired all of us," said HPU President Dr. Nido Qubein. "We are honored to host her on HPU's campus, where innovation is in our DNA, and we are excited for our graduates and their families to learn from her."
HPU has advised visitors to await updates on the commencement ceremony, as changes may arise in response to COVID-19 and other issues. Further information can be found at www.highpoint.edu/commencement.